Introducing Labhouse: a greener kind of office building
29 September, 2022
At Northvolt, we look for sustainable solutions in every corner of our operations. We strive to show how things can be done differently. The buildings that we operate out of are no exception. Here we introduce Labhouse, our latest office building in Västerås.
Positioned as a dynamic space to support the operations of Northvolt Labs campus on which it is situated, Labhouse, built in partnership with Castellum, will provide office space for 900 Northvolt employees. The building will be fully equipped with meeting rooms, a co-working hub, an auditorium and a showroom. Yet, the most striking part of the building is arguably its wooden frame. In terms of sustainability, this is just the tip of the iceberg.
What does it mean to be a sustainable building?
According to Louise Holmstedt, who works for Bengt Dahlgren as sustainability manager of the project:
"There are essentially two key parts to our approach. Firstly, we aim to remove or reduce the use of materials which contribute to a high carbon footprint, such as steel, concrete or glass. Rather, we replace these with alternative, more sustainable materials. Secondly, it is important to design the building in a way that makes it sustainable throughout its life. For this we consider things like heating and cooling, its efficiency and its complete energy profile."
Broadly, carbon emissions from the built environment is a huge issue. In Sweden, for example, approximately one fifth of all carbon emissions come from the construction industry.
Presently, it is practically impossible to construct large industrial buildings with zero emissions. Construction materials, including concrete and steel, carry large carbon footprints, as do the machines used in construction.
What Labhouse demonstrates, however, is how emissions associated with the planning and construction phase can be greatly reduced compared to conventional builds.
Practically, this means keeping track of where materials come from in terms of their sustainability profile, how they are transported and that the use of materials with a high carbon footprint is kept to a minimum.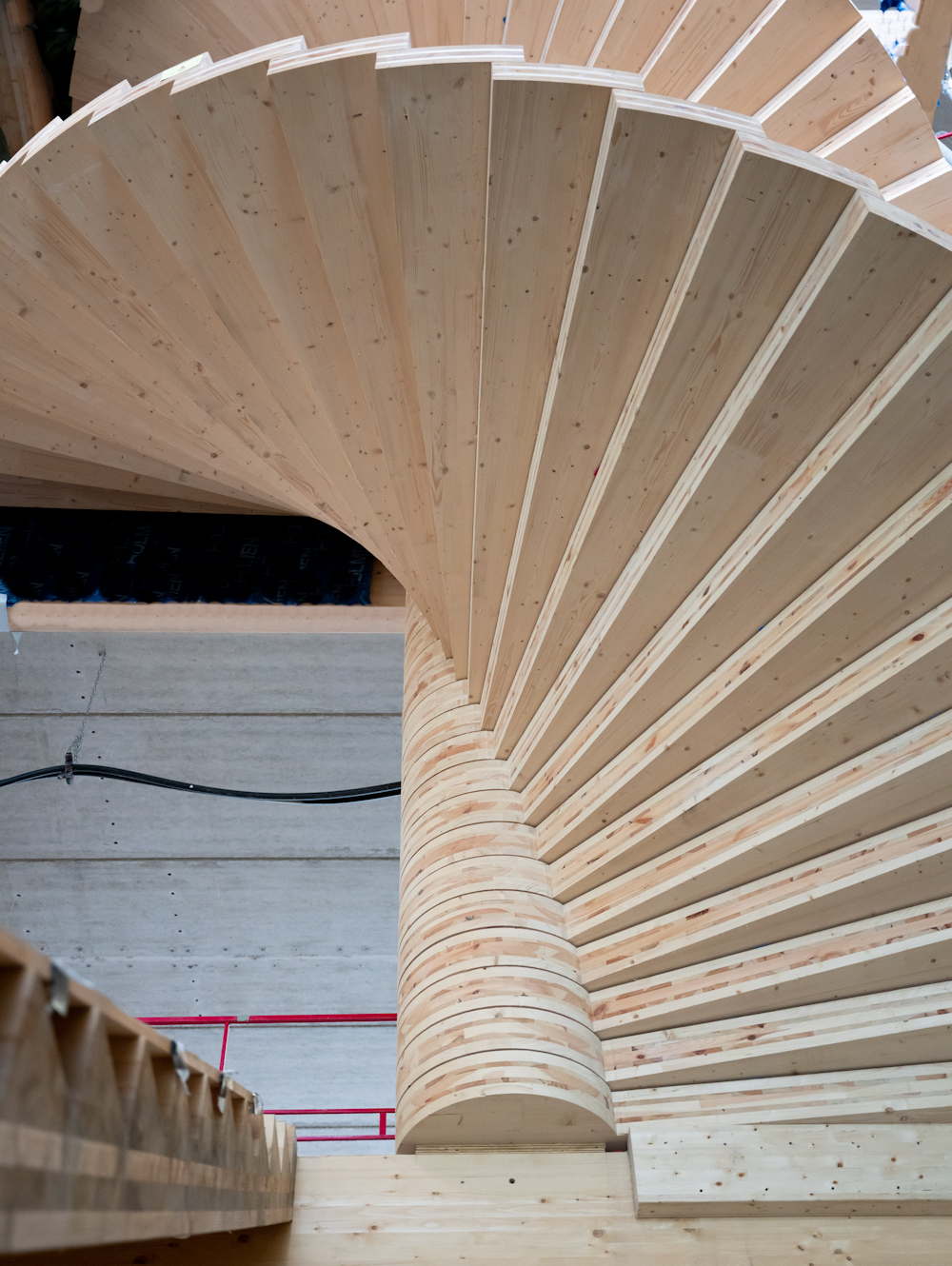 The case for wood
As most of a building's total emissions throughout its lifespan occur during construction, the choice of materials used carries great importance in making the building as sustainable as possible.
Aiming to reduce the use of materials which carry high carbon footprints, Labhouse extensively features wood throughout its construction. The building's hybrid frame is a key design feature, combining wood with some carbon-improved concrete for stability and fire-safety. So, what's so great about wood?
Wood offers considerable climate benefits. Unlike concrete and steel, trees are a renewable material.
Studies indicate that by substituting conventional construction materials with timber, emissions from construction may be reduced by some 50%. In terms of material transportation, wood is lighter than concrete and steel, thus leading to more energy efficient transportation.
But on top of being a climate-friendly alternative, wood is simply an excellent construction material. Innovations within wood construction have led to the development of cross-laminated timber (CLT), which is made by stacking together wooden blocks at right angles to one another and then gluing them together. This creates a strong, robust material that has similar properties to a reinforced concrete slab. CLT, which is used at Labhouse, allows for a high level of precision, and a reduction in material waste as the wooden panels can be tailormade for specific purposes.
Aiming for self-sufficiency
Since Labhouse is designed to be sustainable throughout its lifetime, powering the building with renewable energy sources is key. This includes solar energy from solar panels on the roof, which are designed to tilt at an angle for optimal solar energy absorption capacity.
Also integrated into Labhouse is a Voltpack Mobile battery system, which serves several functions. By storing excess solar power generated during the day and releasing it when the building needs more power, the building becomes more self-sufficient. The Voltpack mobile battery system also provides back-up power capabilities in case of a black-out, thus replacing the use of a diesel generator.
A geothermal energy system has also been integrated into Labhouse to provide low-carbon heating during the winter and cooling during the summer. To achieve this, we have dug wells, several hundred meters deep, into the ground behind Labhouse. Here, we will pump cold air through pipes into the ground to be heated up beneath the earth's surface and be pumped back into the building during the winter, and vice versa during the summer months.
Initiatives to improve the sustainability of Labhouse don't stop there. Food served will be locally sourced, and we will encourage climate-friendly commuting through access to a two-story bike garage and an outdoor bike shelter to encourage green sources of transportation.
Set to open its doors in April 2023, the aim is for Labhouse to be a place that energizes and inspires. In large part, this will be achieved through innovative solutions in regards to construction and energy use throughout the building's lifetime.
Thinking outside of the box has always been a part of the Northvolt spirit, and we hope that Labhouse will reflect that mindset as well as our vision to enable the future of energy.
Want to work at Labhouse? I know I wood. Check out northvolt.com/career.