What the Northvolt–Fluence collaboration will do for energy storage
11 May, 2021
Manuel Pérez Dubuc, CEO Fluence, explains how we've barely scratched the surface on the potential of battery storage.
Now in collaboration, Fluence and Northvolt are developing sustainable, next-generation energy storage battery systems to accelerate the shift to resilient, decarbonized electric grids.
A global leader in energy storage technology, software and services, Fluence has a track record of charting a new path for the architecture of power grids around the world. With a battery supply and co-development agreement with Northvolt, Fluence will now develop its position further still in evolving the industry.
As we move into this cleaner energy future, Manuel Pérez Dubuc, Chief Executive Officer at Fluence, explains to Northvolt, we've barely scratched the surface on the potential of battery storage.
The evolving role of batteries on the grid
Driving the pace of the energy storage market is the need to maintain stability of the grid while adding greater amounts of intermittent solar and wind power. Well-suited to stabilizing the grid in a multitude of ways, battery storage has come to be recognized as what Manuel describes as "the enabler of sustainable, decarbonized power systems".
What's special with batteries is that they don't serve just one purpose on the grid. "Batteries are an incredible asset that can perform a dual role between a consumer and a supplier," says Manuel.
"The simplest application is to provide solar at night, or 24/7 renewable energy. But this is just one application. There is a whole suite of applications that have emerged," says Manuel. "In earlier years, frequency regulation was the singular application for battery storage, but then came other ancillary services – faster and more precise ones – and renewables integration and peak capacity. Today, we're seeing great opportunities in batteries providing back-up power for data centers and industrial settings, acting as virtual reservoirs and more."
Battery storage has come to be recognized as the enabler of sustainable, decarbonized power systems
Hinting at an exciting future proposition, Manuel highlights how run-of-river hydropower stations are now open to expand their capacity. "In many places it's extremely challenging to expand a hydropower plant's generating capacity; you cannot simply create a new dam, often because of social or environmental impacts. But now, by deploying a battery system at the run-of-river hydro facility, you can create a virtual reservoir, expanding capacity without adding infrastructure or building dams."
As battery system technology has developed to more effectively provide services, what has been pivotal in recent years is that the deployment and operation of systems has become much more economically attractive.
"In many instances, battery storage is competitive against the alternative, for instance providing peaking power at a better price than natural gas turbines, without subsidies or policy incentives. This is having a major impact on the number, and size, of systems being deployed."
This crucial tipping point, Manuel explained, means that battery storage is now oftentimes more attractive than deploying new grid infrastructure which would otherwise be required to stabilize the grid. Maintaining reserve generating capacity, peaking power plants, or laying new distribution lines can all now be circumvented via battery energy storage.
Consequently, the outlook for battery energy storage deployment is bright. According to Manuel, "estimates for how much storage will be deployed keep growing and the markets are expanding tremendously quickly. I think there are a few reasons for that. For one, markets are becoming more viable and revenue generating. For another, as battery manufactures lower the price of systems, we're seeing new markets emerging and opening up for more renewables being brought onto the grid."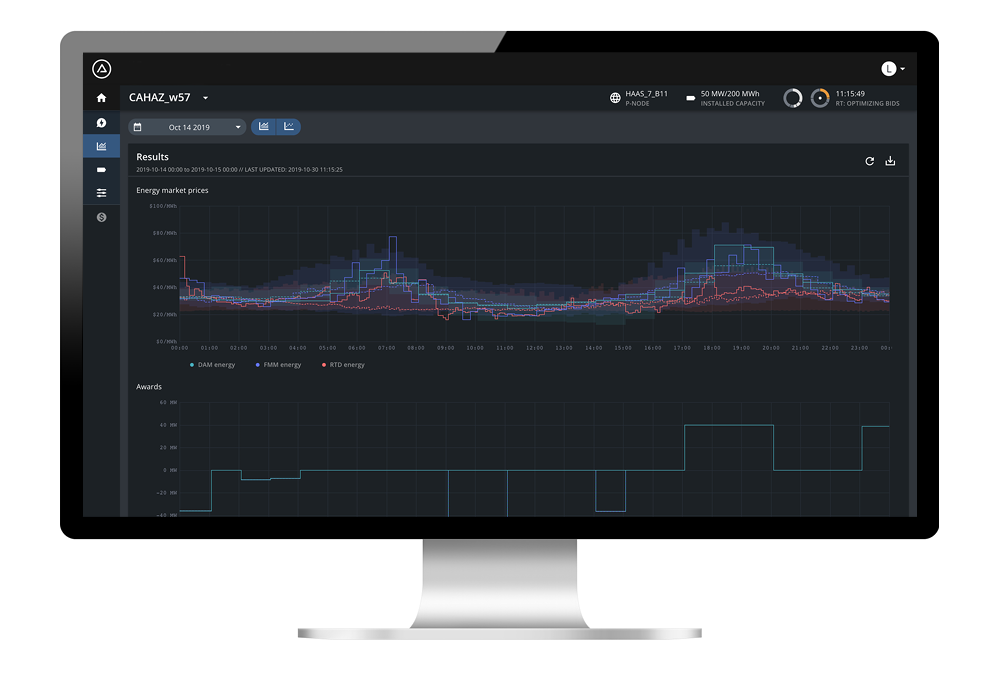 Smarter batteries
Cost reduction and improvement of battery and related systems hardware on the one hand, and market recognition of the value of energy storage on the other, are all driving market expansion. Moving forward, markets stand to benefit greatly from another kind of catalyst for energy storage deployment: smart digital toolboxes, which optimize battery assets.
While the electrochemical nature of batteries makes them ideally suited to rapidly switch from absorbing electricity to distributing it (and vice versa), oftentimes providing millisecond response times, Fluence and Northvolt alike have been quick to recognize the need to augment batteries through digital technologies.
"To perform any or all energy storage functions well, what we see as critical is to embed intelligence into the system. What we mean by that is employing artificial intelligence (AI) and other software tools which serve to prolong the lifetime of the battery, control its operations and enable it to deliver economically across multiple revenue generating services."
This aspect of software is something Fluence is heavily involved with, and in Manuel's outlook, "it's only with this that we truly unlock the power of battery systems."
As an example of this, Fluence will deploy its AI-powered trading platform to optimize operations and market bidding activities at a 182.5 MW / 730 MWh lithium-ion battery storage plant in California for California utility Pacific Gas & Electric (PG&E). PG&E expects that the complete system will save some $100 million over its 20-year lifetime in avoiding costs for procuring energy to otherwise meet capacity requirements.
"We're really only in the infancy of applying digital intelligence to battery systems," Manuel explains. "And we're only just beginning to scratch the surface of the value of artificial intelligence as it is applied to energy storage on the grid. There's a huge amount of innovation in this space yet to take place, and I think that, as a battery manufacturer, Northvolt is really leading in terms of putting the foundation in place to do that."
At Northvolt, that foundation begins with integration of necessary systems to enable traceability and insight at the individual cell level, as well as module and pack. Cell data, in the context of performance of the entire system, is highly valuable and dovetails neatly with Fluence's own approach, which includes both integrated controls software that acquires and aggregates thousands of data points across the entire storage system, and cloud-based applications for advanced reporting and optimization. Northvolt's battery management systems will collect and relay key battery performance into Fluence system algorithms, which will leverage the data to support the operation and management of the system.

"What the industry really needs to drive forward is thoroughly designed, homogenized systems – built for purpose, and from the best possible components. That's what our partnership intends to deliver. The solutions we bring to market are intended to really change the way that the whole sector is being perceived and appreciated."
Systems costs need to be lowered still further, and technologies must be matured to ensure systems are not only delivering optimal performance throughout long lifetimes, but that they can effectively participate in markets whilst delivering reliable, predictable revenue streams. It is precisely these challenges which Northvolt and Fluence will tackle.