Bringing electric long-haul trucks to life
7 December, 2022
Leading truck manufacturers are uniting behind a new joint venture to develop a game-changing public charging network for electric, heavy-duty long-haul trucks across Europe. For ambitious electrification plans to become a reality, this is an essential first step. Here's why.
The world is experiencing a shift towards electrification. Automakers and truck manufacturers are currently in a race to electrify their fleet the fastest. In terms of reducing emissions and moving away from fossil fuels, this is a great thing. In the EU, heavy-duty vehicles are responsible for approximately a quarter of CO2 emissions.
But just like diesel powered vehicles need gas stations, EVs need charging stations. And right now, there aren't nearly enough charging stations in the world to support the electric vehicles that will be operational in the coming decade.
It's a chicken and egg situation. What comes first? The electric vehicle or the charging network? In truth, neither – they need to be developed in parallel.
While manufacturers often embrace competition, several have now banded together around a common cause: everyone needs chargers. A new joint venture consisting of Volvo Group, Daimler Truck and Traton Group (including Scania and Volkswagen) is seeking to develop much needed charging infrastructure, with the aim to make electric long-haul transportation possible.
Charging infrastructure to support an electrified reality
Scania and Volvo Trucks have each announced ambitious electrification goals. With Scania committing to being fully electric by 2040 and Volvo Trucks aiming for 50% of its vehicle deliveries to be electric by 2030. Enabling these ambitions, the JV, Milence, will install at least 1,700 charging locations along key transport corridors in Europe by 2027, to bring EV trucks to life.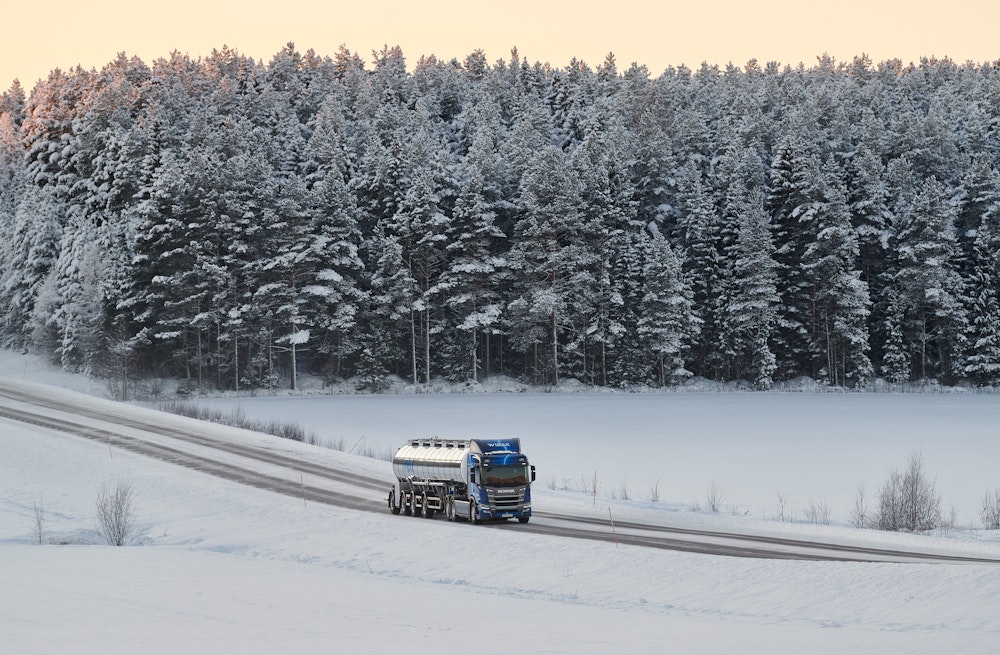 When asked about the aim of the JV, Zachary Alfred, spokesperson for Milence, said: "We want to be a catalyst in the market, giving transport operators the confidence they need to invest in and operate heavy-duty electric truck fleets, knowing that the charging infrastructure will be there when and where they need it, and always 100% reliable."
How is charging a truck different from charging a car?
The term "heavy-duty long-haul truck" refers to trucks that transport several tonnes of goods, across considerable distances, often hundreds of kilometers from the driver's home terminal.
Heavy-duty long-haul electric trucks require a different approach to charging infrastructure than passenger cars. According to Zachary, this boils down to four main differences: space requirements, power demands, reliability, and security.
"Trucks require much more space than passenger cars, including space to manoeuvre and space for parking."
The tight schedules that long-haul trucks must follow place additional demand on charging stations. The chargers need to be fast, and they need to work 100% of the time.
Electric trucks also require much more energy than passenger cars: "Today's electric trucks can have battery capacities of around 500-600 kWh, around 8-10 times that of a typical electric car," says Zachary.
The power of megawatt charging
To avoid disrupting driver schedules, the JV's plan is for less than 45 minutes of charging to power an electric truck for 4.5 hours. This correlates nicely with the mandatory 45-minute break that truck drivers are required to take every 4.5 hours. To achieve this, megawatt charging is an absolute necessity.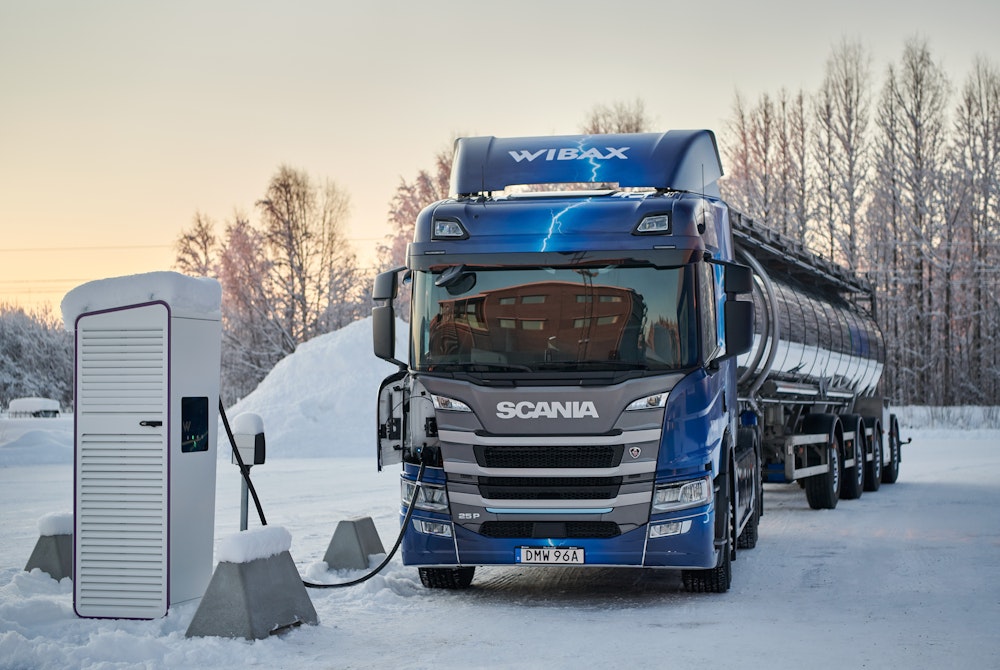 "Overnight charging of trucks can easily be done with today's high-performance chargers, but 45-minute charging requires higher-power charging, which we expect will be done with the new Megawatt Charging System (MCS), which we intend to implement as soon as possible," says Zachary.
By delivering up to 3.75 MW power when charging, the MCS will be able to fully charge an electric truck in less than an hour.
The MCS has been advanced by the Charging Interface Initiative (CharIN) – an association that aims to establish a global standardized charging infrastructure. Based on a global agreement on technical specifications, the MCS aims to harmonize infrastructure layouts.
Standardizing is important – it ensures that the MCS is compatible with every variety of truck, and avoids disrupting logistical flows.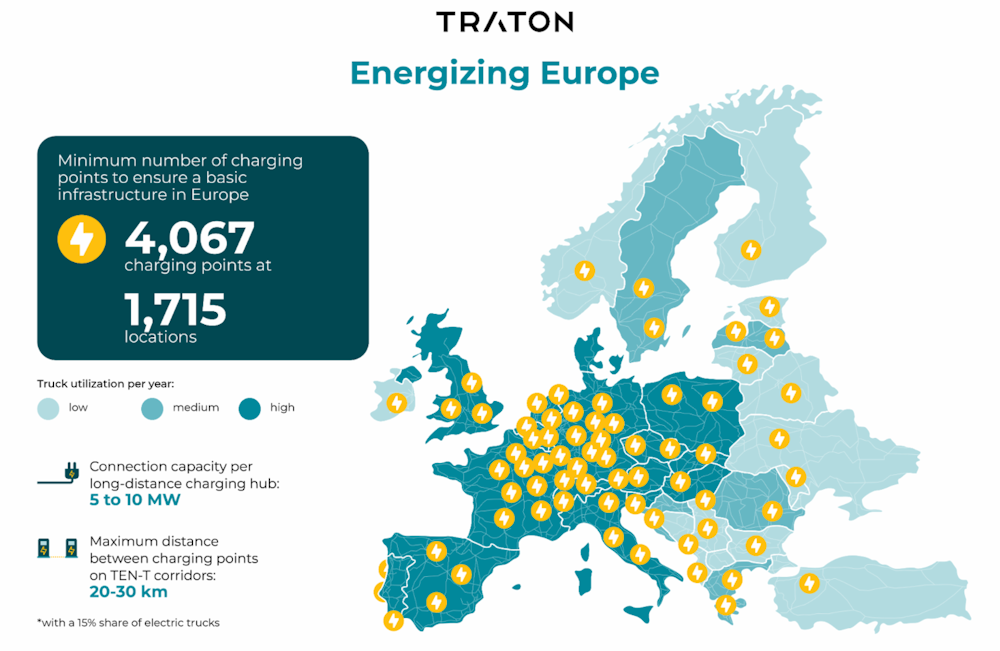 Just the first step
A network of 1,700 charging locations is enough to get an electric truck fleet off the ground, but it's only a start.
"We intend to increase that number significantly by seeking public funding and additional partners," says Zachary.
At the IAA summit this year, Scania and Traton CEO Christian Levin said: "There are no longer any excuses not to start the transition to zero-emission vehicles."
Through the JV, Traton, Volvo Group, and Daimler Truck are walking the talk. The road to electrification requires more than just electric vehicles alone, it demands a paradigm shift – one which requires entirely new industries, infrastructure, and cross-collaboration.