Candela venture into new waters with launch of C-8 electric vessel
30 September, 2021
Everything will go electric. And not just on land, but at sea and by air as well. Having already made a mark on the boating industry with development and launch of an all-electric craft, Swedish start-up Candela is now embarking on a new chapter – scaling-up with a new vessel designed for high-volume manufacturing.
At the Candela boat shop just outside of Stockholm, the all-electric C-7 vessel is hand-built. Fully electric, incorporating a unique hydrofoil design which lifts the entire boat out of the water, together with what Candela claim as the world's most efficient propulsion unit, the C-7 reflects a new kind of philosophy in boat design.
"When we started Candela, the goal was simple: develop a sustainable boat," Gustav Hasselskog, Candela's Founder & CEO tells Northvolt. "It was clear that battery electric was the way forward, but to overcome the resistance of water – which is a major obstacle to delivering an electric boat with decent range – we needed to re-think design principles. It's because of this that since the beginning of the company we embraced hydrofoils as means by which to massively reduce that water resistance, and thereby enable use of battery electric propulsion."
"This is about enabling us to build more electric boats, with more features, longer range and more comfort, faster."
Actively stabilized hydrofoils allow Candela electric boats to leave no trace; no pollution, no noise, no wake.
With its hydrofoil removing 50% of the drag compared to a planing boat, the C-7 design uses 80 percent less energy at 20-plus knots compared to gasoline boats. Coupled with a 40 kWh lithium-ion battery, the reduced energy consumption means the vessel has a range of more than 50 miles at 20 knots – nearly three times the range of the next-best electric boat on the market.
All this has been achieved by Candela's in-house team, which has designed all technology used in its boats, from scratch. This includes the electonics and software which enables active stabilization of the vessel, such that it can fly on its hydrofoils.
Explaining the background to the vessel which was first launched in 2019, Gustav says: "the C-7 has proven popular, and it's the best selling premium-class electric boat in the world. But in order to have a big impact on fossil fuel boat sales, we need to scale up production. And for that, we needed a new design. All this has brought us to the C-8."
The hand-built, 100% carbon-fiber hull of the C-7 is light and rigid, but its design and build process aren't suited to mass production. In contrast, C-8 is designed for ease of manufacturing. Candela will still build all parts, from hydrofoils to hull to the motor. But these components will now be built at separate stations and then mounted into the hull in what Gustav describes as a plug-and-play system that's much simpler than assembling components within the hull itself, as happened previously.
Gustav highlights: "If we want to make a significant difference in lowering the number of new gasoline boats being sold, we need to be able to deliver the alternative. For that, we need to build more boats, faster."
"Now, with the new C-8 design being built on a modern industrial assembly line we will do just that – reducing the C-8 build time and man hours by 60% compared to building the C-7, which is pretty cool given that C-8 is a much bigger boat with a front cabin and many new features, such as toilet with holding tank, shower, freshwater tank and more."
The design and plug-and-play assembly of C-8 is just the beginning. Also on the horizon for Candela is investment into robotics and automated manufacturing technologies to accelerate the build of boats further still.
Public transport from Candela  
Candela's activities to date have concentrated on delivery of a compelling all-electric leisure boat – the C-7. But this is just one side of the company. Candela's new approach to higher-volume manufacturing will also be leveraged to accelerate Candela's efforts to improve another boating sector, one with far wider reach and potential impact.
Gustav highlights: "Our mission is to shift the entire boating industry towards sustainable power. We began with leisure boats, but the next logical step was to move into slightly larger water taxis and ferries. That's what the Candela P-12 water taxi and P-30 electric shuttle ferry projects are all about."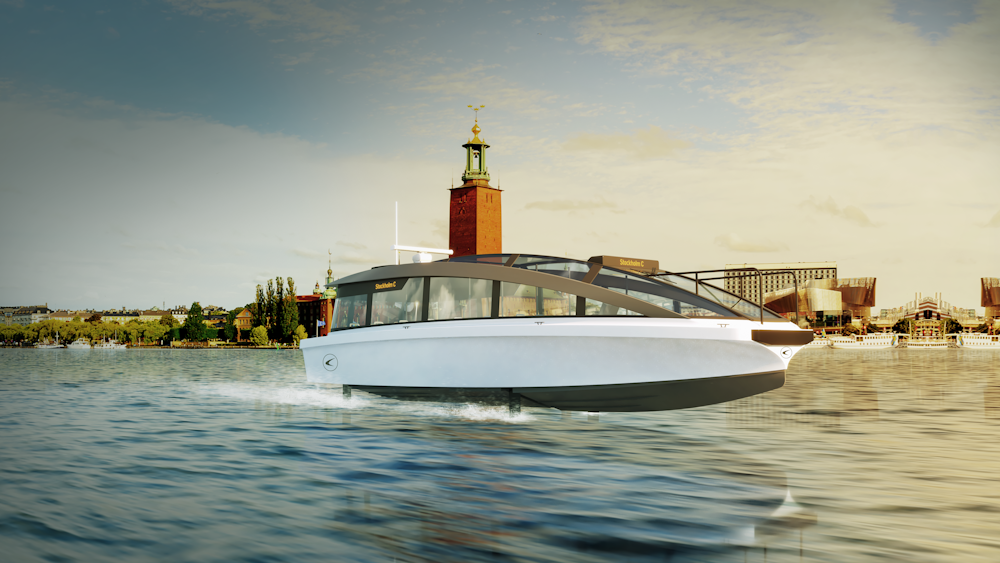 battery electric can result in operational cost reductions of around 40% per year
"We'll launch into trials of the first P-30 in Stockholm next year, but we're confident in this. We're currently in discussions with over forty cities, governments and corporations, from Norway to Peru, and it's looking very promising that we'll close deals here. Motivating many cities and municipalities is pressure to reduce CO2 emissions, and for many cities relying heavily on ferries, traditional gasoline engines actually add significantly to their footprint."
Gustav explains cities have much to gain from the switch to electric, and not only cleaner air. Candela suggest that battery electric can result in operational cost reductions of around 40% per year compared to conventional gasoline ferries; something that quickly adds up to a huge cost saving for cities operating even moderately sized ferry fleets.
While Candela is confident for operators making a switch to battery electric, the company also expects that many river or coastal cities will pick up on the new opportunities of fast, zero-emissions electric ferries as a cost-effective way to establish new commuting routes and ease inner-city congestion.
Find out more about Candela
Watch Northvolt Electrification Insiders episode 6, featuring Gustav Hasselskog (Candela Founder & CEO)