Construction begins at Northvolt Ett
25 October, 2019
As the seasons change and construction commences at Northvolt Ett, it's an ideal time to take stock of where the project currently stands.
Located just south of the Arctic circle, Northvolt Ett is one of the largest and earliest lithium-ion battery factories to be introduced to Europe in response to the need to decarbonize and electrify global energy systems. The project has now officially shifted into a fully-fledged construction phase. And having arrived onto site amidst the first snow of the year at Skellefteå, the first structural steel of Northvolt Ett has been raised.
The site had of course been extensively prepared prior to the first columns being raised. That process began in June 2018 with land clearing and leveling of the 500.000 square meter site and led up to pouring of concrete foundations late this summer. Many dozens of concrete footings now feature on the site – each marked out with flags that give hint to the perimeters of the giant halls yet to be built.
To be sure, the site is now visibly far more than a very large, expanse of flat land. Long stretches of trenches traverse the site, oftentimes paralleling the edges of what will be the longest of Ett's halls. Infrastructure is already installed and buried in many areas, and laid in many more sections under development.
On the first day of construction, at the northern end of the site, three columns and one truss were raised. The columns, over 35 meters in height and weighing over 12 tonnes a piece, were set into the concrete footings with laser-guided precision and bolted fast. And at once, the maximum height of Northvolt Ett became apparent.
Within a few weeks of that event, and we already have many more columns and multiple horizontal trusses in place. Beneath them rest more steel of varied types – trusses and columns included – each marked in brightly colored paint for its intended positioning and function within the structural frame of the factory.
This work is taking place on a hall which will house upstream manufacturing of active material. More specifically, it is in this building where Northvolt will produce cathode material for cell electrodes. Into this hall, raw materials including metals, will go, and a so-called slurry of active material will flow out and onward for subsequent downstream processing.
Spread across a total area of around 500.000 square meters, the 32 GWh design of Northvolt Ett features two such upstream halls running east to west, four downstream halls running north to south – each of which occupies a footprint considerably larger than the upstream halls – and three further buildings hosting formation & ageing and auxiliaries.
While the preparation of active material is absolutely critical to the performance of a battery cell, it is within downstream halls where the majority of manufacturing steps take place.
These activities are undertaken for anode and cathode electrode in parallel, proceeding through the following steps: slurry mixing; electrode coating with slurry; electrode drying; electrode pressing; electrode slitting. The cathode and anode rolls which are produced are then combined through a cell assembly phase: in a process called winding, layers of anode, cathode and separator are wound into bundles which are then inserted into aluminum cans. Cans are filled with electrolyte, sealed and finalized.
While there is a great amount of complex structural work ahead of the team at Northvolt Ett, it will unfold at pace. The factory's first cells will be delivered in 2021.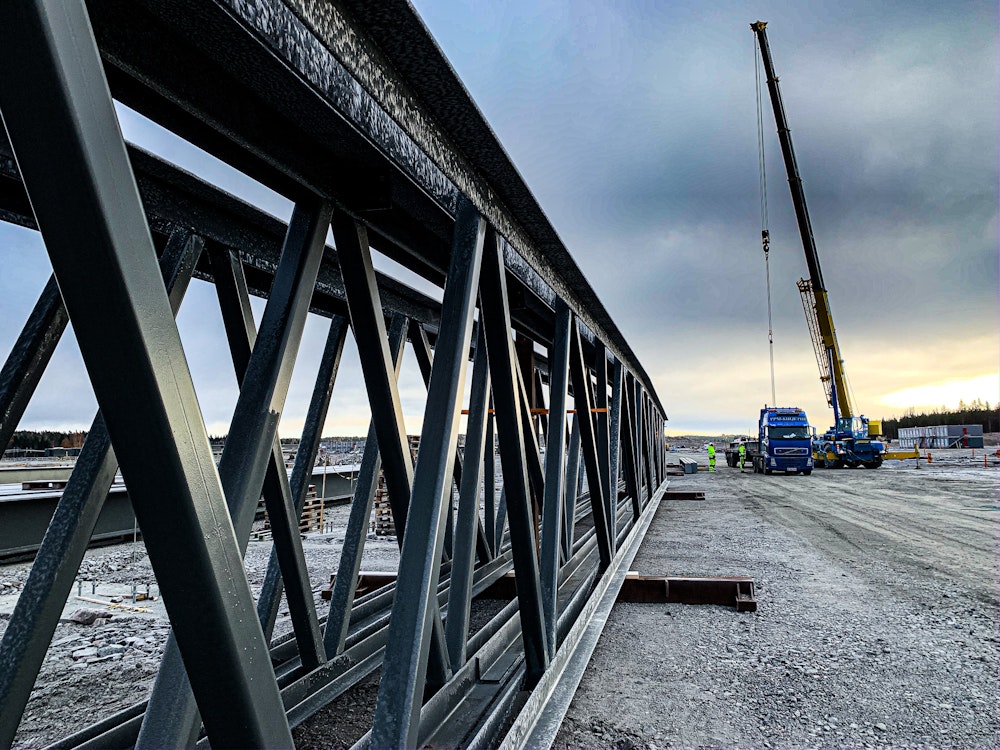 And the structural work is just the beginning. It's within these giant halls where the intricate work of installation takes place. For Northvolt Ett that means tooling for active material production, cell manufacturing and recycling, but also embedding an unprecedented level of automation into the processing flows.
Northvolt Ett will be home to hundreds of automated guided vehicles (AGVs) and other automated systems to handle material flow. Operations and control of the factory will be heavily automated too; enabling the optimization of factory processes. And above it all will sit a digital data model of the factory, drawing in and mapping out machine and process information to ensure that down to the smallest of levels, we know what's happening and how to fine tune it.
The raise of first steel at Northvolt Ett represents the first material presence of a vision more than three years in the making. Northvolt Labs, 600 km south of Ett in Västerås, is of course much further along in its development and will be online later this year. But it is Northvolt Ett that brings Europe its first homegrown, mass-production Li-ion battery cell manufacturing capacity. It is a direct response and manifestation to the industrial logic of electrifying Europe.