Hybrid and battery-powered ferries at Stena Line
14 August, 2019
A bridge to electrification of ferries is hybrid power – where a ferry is powered partially by batteries, but otherwise by conventional engines. It's a solution that enables taking advantage of benefits of batteries, whilst overcoming some of their current challenges in powering larger systems.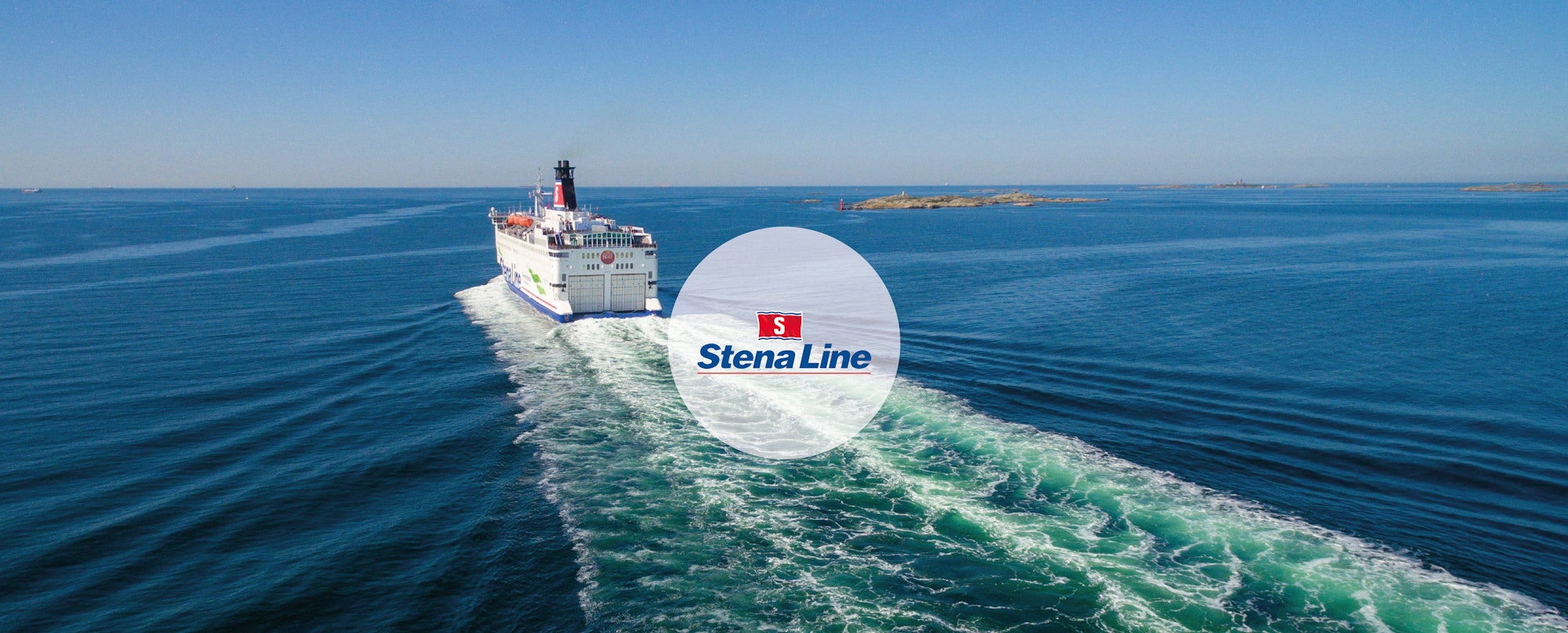 Stena Line is one of Europe's leading ferry companies and is pioneering battery hybrid technology as part of its ambitions to reduce its environmental footprint.
Northvolt spoke with Erik Lewenhaupt, Head of Sustainability at Stena Line, about the company's initiatives to advance cleaner ferries.
"Driving Stena's move towards clean power is sustainability, customer demand and coming regulation. Most of all we have a head owner who is intent on making a difference."
"We believe that the future of sustainable marine transport will require a wide range of fuel solutions, but electricity is one important part, where the range of solutions will stretch between fully electric to hybrid."
Noting that most of Stena's ferry fleet is composed of larger vessels, Erik said: "Hybrid is the most likely solution with the battery technology we see today. However, we see business opportunities on shorter routes, where we have better use of the batteries."
Stena's ambitions have led to development of its flagship battery hybrid ferry, Jutlandica, which in October 2018 completed its first month of operation, operating on a route between Frederikshavn in Denmark and Gothenburg in Sweden with a sailing time of around 3 hours and 30 minutes.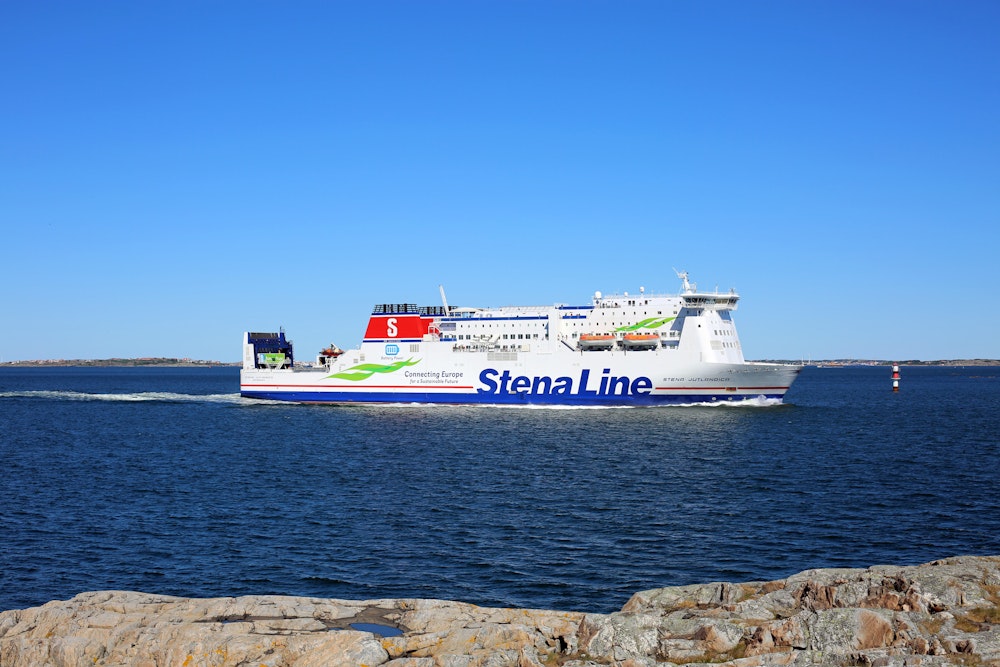 With capacity for 1,500 passengers and 550 cars, Jutlandica is considerably larger than Norled's Ampere in Norway – the world's first fully-electric ferry which was highlighted in an earlier post 'A revolution at sea – the challenges and opportunities of electrifying maritime industries'.
Erik described the Jutlandica's 1 MWh battery power solution, saying: "The battery is based around lithium ion NMC chemistry, which is most suitable for our application. It's a containerized solution from Callenberg/Corvus which is charged from shore when in port and through peak shaving from the auxiliary engines during sailing."
"The battery can supply up to 3 MW instantaneously and reduces emissions and noise, as well provides a safety back-up. It has been very popular among our crew on-board."
Presently, the battery system replaces one or two auxiliary engines when the Jutlandica is manoeuvring in port and is used for powering ventilation, heating and other systems on the vessel.
The environmental savings from this use of battery power to reduce generator usage amounts to approximately 500 tons of fuel saved and 1,500 tons of reduced CO2, corresponding to the annual emissions of around 600 cars.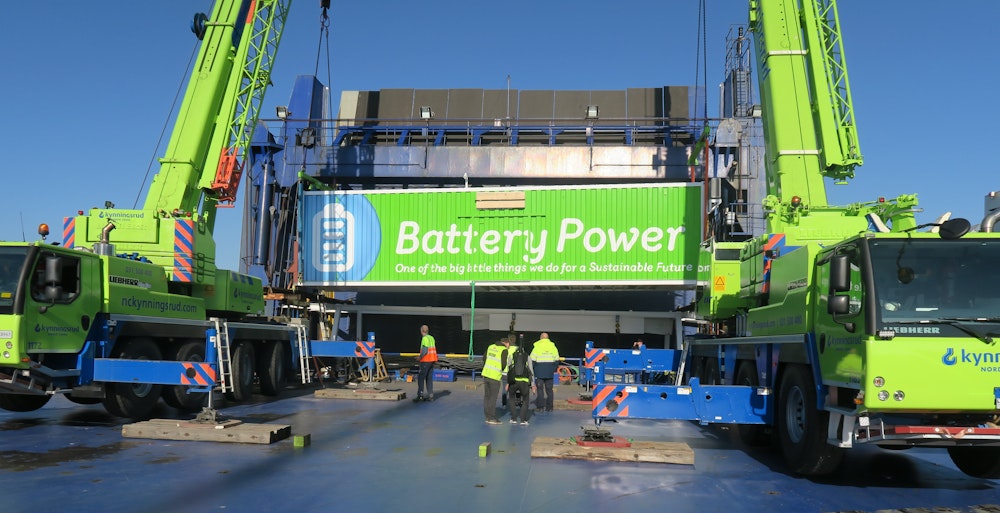 But this is only step one in a three-step plan. A second step will see around 20 MWh battery power connected to two of the four primary machines, allowing Jutlandica to run on electrical power for about 10 nautical miles.
As for step three, Erik explained: "With step three, Stena will look towards connecting a larger battery system to all four primary machines of a vessel much like the Jutlandica. Rather than retrofit the Jutlandica, it's likely that this step would involve a newbuild ship because of the larger capacity battery system that is required [around 50 MWh]. We expect the ship will be able to cover the 50 nautical miles between Sweden and Denmark."
Erik adds to this future outlook, saying: "We aim to gradually increase the number of hybrid solutions similar to the one on Jutlandica, as well as their capacity. And to introduce Stena's first fully electric ship by 2030."
Considering our being in the early years of the electrification of ferries, the use of hybrid solutions is quite understandable. The approach extends the scope of ferry applications that battery systems can support, thereby allowing for significant reduction in ferry emissions. At the same time, it enables ferry operators and developers to test and evaluate battery performance in a stepwise approach.
Erik suggests that widespread deployment of fully electric ferries, certainly for larger ferries, requires further innovation.
"Development of these solutions is in early stages, and there are some challenges. Each ship and marine battery solution is unique and as such prices have been high. Battery weight and volume can also be a challenge if competing with cargo space. In general, lifecycle and cost of batteries are the two main challenges. Costs must come down to the same level as for the automotive industry."
Looking forward, however, Erik's outlook is optimistic. "As both the size and cost of batteries decrease, battery operation is becoming a very attractive alternative to traditional fuel for shipping, and in the long term it could be possible to completely eliminate emissions in the future."
It's worth noting that facilitating the deployment of electric ferries requires not only changes on ferries themselves, but also onshore investments at ports and harbours.
"Charging obviously needs to be quick as ferries are on a timetable, sometimes operating with a short turnaround," said Erik.
For this, effective charging infrastructure is necessary – a circumstance that is mirrored in the very same situation seen with deployment of charging infrastructure for electric vehicles.
"And of course, electricity needs to be green and competitive compared to regular fuel," Erik added.