An interview with Scania on the route to electric buses
23 September, 2019
Through 2018, electric buses represented just 5% of new bus registrations in Europe. That's a marginal figure, but it's not going to stay that way for long and bus manufacturers are working towards market adoption rates in Europe ramping up dramatically towards 2025. Leading bus and heavy vehicle manufacturer Scania, is one of them — engineering technologies for cleaner commuting.
"We are at a very interesting time for vehicles and seeing a lot of change in the way we are powering transportation," Anna-Maria Yousef, Sales Engineer at Scania, told Northvolt, describing Scania's portfolio of sustainable transport solutions.
"But there is not just one e-mobility solution that will fit all public transport customer needs, it is likely several alternate fuel technologies will continue to play a role in clean transport for some time. But batteries certainly represent a very promising technology around which to base many forms of vehicle, including buses."
For background see, 'The rise of electric buses'.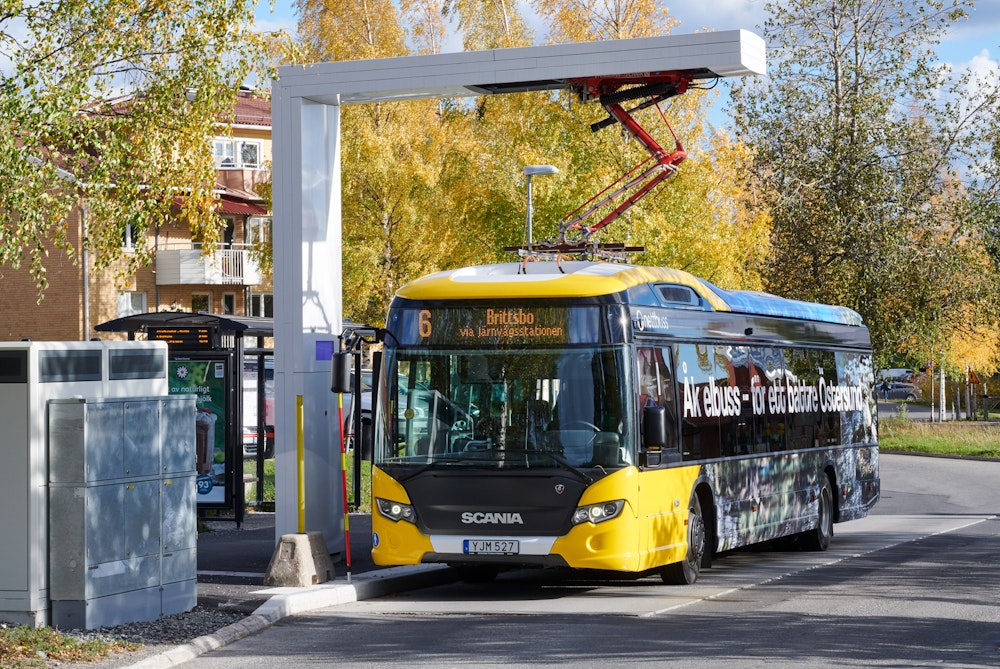 Field tests in Östersund
Currently at the stage of developing battery electric bus platforms for its portfolio of sustainable transport solutions, Scania is heavily engaged in field testing. Some of the key issues which the company is seeking to better understand with its trials include battery and vehicle performance, charging strategy dynamics and effectiveness of different charging strategies.
Although some of Scania's earliest work on electric buses began in 2016, with field testing in Södertälje, Sweden, the focus now is on testing in Östersund, where Scania delivered its first three e-buses for field trials in the beginning of 2018.
The 80-passenger capacity buses are operated by the local public transport operator, on a 14 km long route with 300 kW fast-charging pantograph infrastructure at each end stop.
"A full charge provides enough energy for a return trip, but the buses are charged at each end station to allow some redundancy in the system."
Testing in northern Sweden's Östersund had some particular benefits too, as Anna-Maria explained: "The three buses have been operating in temperatures between minus 30 degrees to plus 30 degrees, with the aid of a heater, below minus 5 degrees, to help batteries handle colder temperatures."
"One of the most encouraging learnings is that the uptime of these electric buses was in line with uptime of Scania's conventional diesel buses. Additionally, the feedback from operators and also the public transport authority is that the batteries are performing well."
This summer Scania delivered an additional two buses with enhanced battery performance to operate on the same route.
"With another e-bus joining the trial in the near future, the fields tests will continue to deliver results which will inform our future direction," said Anna-Maria.
Charging solutions
New bus customers might expect they can take a diesel bus and simply exchange it with a battery electric bus, but as Anna-Maria highlights, that is not really the case.
"The whole system needs to optimized towards a specific operation. Not only the bus, but the size of the battery and charging management need to be considered carefully when optimizing the system."
On this front, a key issue for manufacturers and operators of electric buses is charging. It's not simply the choice of charging technology, but the strategy surrounding charging which needs to be considered.
"We see a 50/50 split in choice of pantograph (roof-mounted) up or down. Right now, there is no clear direction the market will take, so we are adapting to both circumstances. We have to learn by doing, but we expect that we will see some of standard emerge on this issue of pantograph."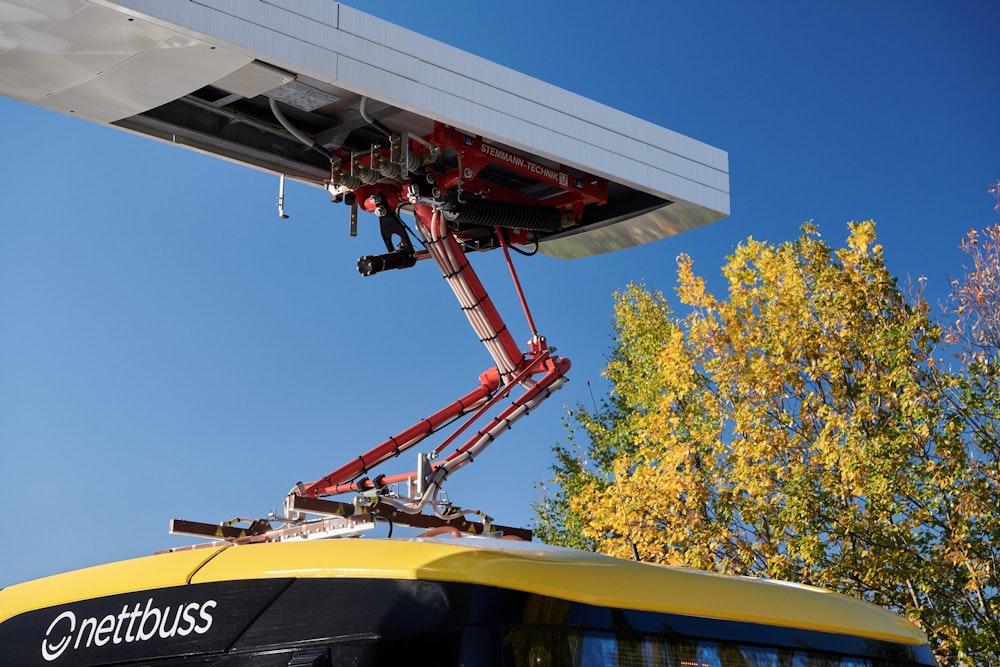 As for charging strategies, there is also some variation.
"The trend is now going into either opportunity charging through pantograph or overnight charging. Opportunity charging essentially means charging when it is convenient for buses operating on their route – it's a solution reinforced by maintaining uptime, high passenger capacity and cost efficiency for the customer."
Overnight charging is another option – at Scania they believe it's most suitable for e-bus in suburban areas where there is less demand on passenger capacity. This charging strategy carries lower infrastructure costs, but can require grid reinforcement for charging of larger fleets.
In comparison, opportunity charging is taken by Scania to be more suitable for lighter city traffic when an extended fleet is needed in peak hours, as well as for heavier city traffic with high demand on passenger capacity.
"Altogether, it is really clear for us that there is not just one e-mobility solution which will fit all customer and operational needs. That's why going forward, we will continue with the field tests to deliver on the clear need for long term testing. We have an R&D department at Scania looking at battery performance of course, but we still need tests performed in the real world," said Anna-Maria.
"In the future we want a wide product portfolio of battery electric vehicles when it comes to different charging technologies, both opportunity and overnight."
Clearly higher capacity batteries will make a difference to issues surrounding charging, and extending bus range without the loss of passenger capacity.
Anna-Maria comments on the matter, saying: "We're confident that battery capacity and other performance parameters will improve over time, but we still need to think carefully about the relative trade-offs in bus performance and impact on infrastructure."
A dramatic shift in bus markets
What we see being undertaken at Scania, and in the wider picture of bus manufacturing and operations, is part of the exciting opening act of a major change taking place in public transportation as the shift to electrification gains momentum.
"Today, we see that many bus tenders in Scandinavia are starting to include battery vehicles in their requirements. It's a trend is seen in other European markets too, for instance the Netherlands which is very mature," said Anna-Maria.
"The emergence of electric buses is happening here and now. Today we have a division between battery electric vehicles and other alternative fuels, but in the future we will see more and more only battery electric buses in large cities due to emissions policies."
Batteries are not the only new technology being applied. "Together with Nobina, the Scandinavian public transport operator, we will perform a trial with fully autonomous, electric buses beginning in 2020 for a distance of 5 km. The first phase will see buses run without passengers, but in the project's second phase we expect that around 300 passengers will use the service every day."
Anna-Maria notes: "Currently, the deployment of electric buses is supported by government subsidies. For these vehicles to be competitive with diesel buses the upfront costs need to fall for the industry to mature."
"Today the upfront cost of battery electric buses is higher due to requirement for investment in non-existing charging infrastructure and also battery costs. But the total costs of ownership of battery electric is lower than an internal combustion engine. So with this advantage in combination with expected decrease in battery costs, we believe that battery electric vehicles will reach 50% market adoption in the city bus segment by 2027 globally, and even sooner for some European markets."