Northvolt in 2022: where we stand (part 1)
31 March, 2022
Northvolt is positioned on all fronts to make its mark on the European industrial landscape. Where the last five years since the company's launch have seen foundations laid, partnerships forged and financial backing secured, 2022 is set to be a breakthrough year of delivery.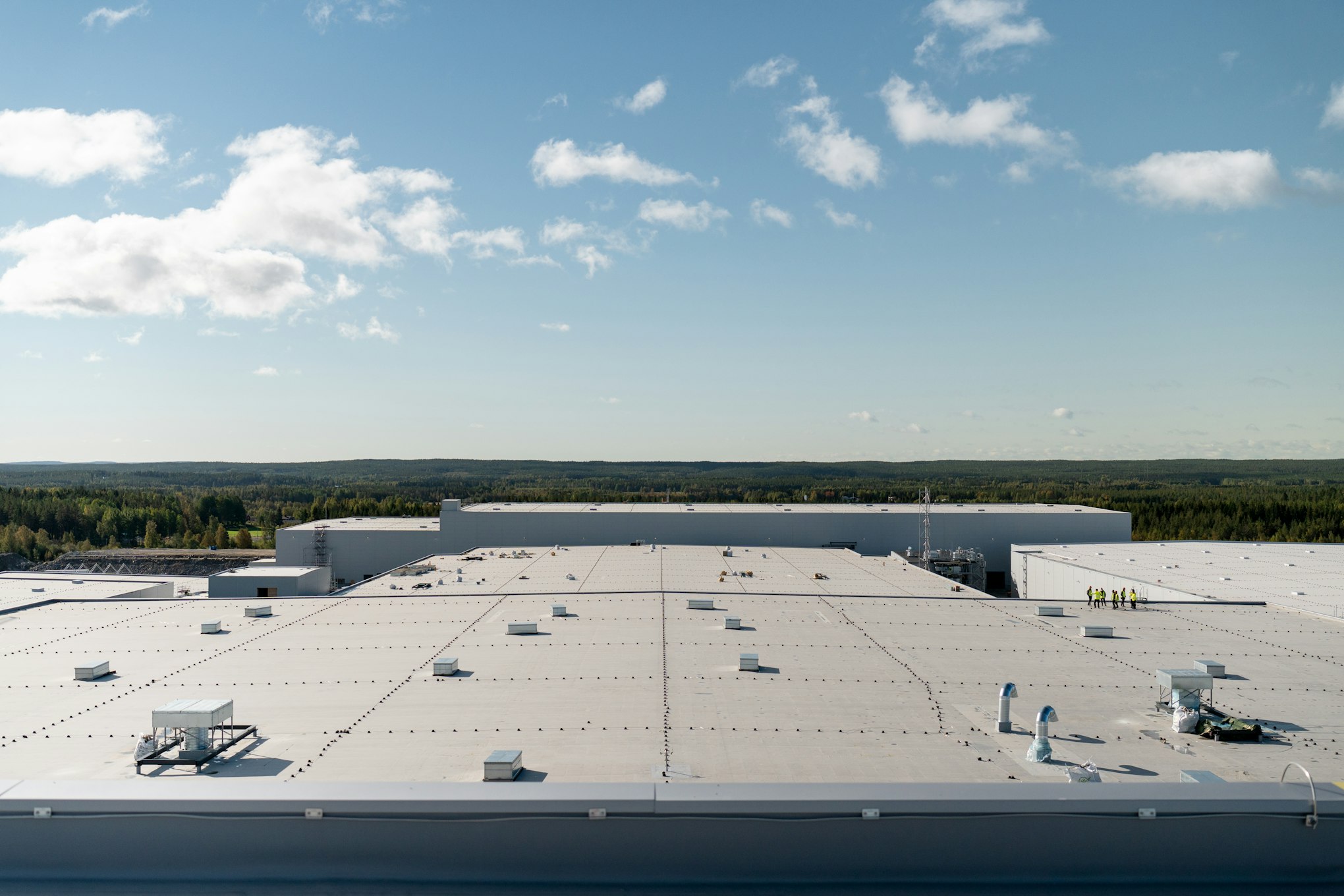 In northern Sweden, Northvolt will bring Europe's first homegrown gigafactory into commercial operation to deliver lithium-ion batteries to customers at the forefront of the transition to electric vehicles. In parallel, 2022 will see a world-first industrial-scale battery recycling plant established alongside the gigafactory. Taken together, the facilities will demonstrate that a new, sustainable approach to batteries is absolutely attainable.
Further south, a $750 million battery R&D campus at Northvolt Labs is under development to cement Europe's position as a region at the forefront of battery technology. Within its facilities, new cell chemistries and designs will be developed to push conventional lithium-ion battery technology to its limits. In Poland, Europe's largest energy storage systems production facility will come online to deliver batteries to companies providing solutions that are key to Europe's push for a decarbonized future.
This is where we stand today, and where we're going tomorrow.
A company maturing amidst change
Now comprised of over 2,500 people and representing over 100 nationalities, Northvolt is beyond its days as a small start-up challenging traditional industry with a vision for sustainable battery manufacturing. It's expected that 2022 will see an additional 1,000 people brought into the company.
As Northvolt has evolved, so too has the wider industrial landscape. For all the challenges that society must accept in facing up to climate and environmental crises, never have we been so well equipped with knowledge, solutions and appetite for change.
What is constant is widespread and tremendous demand for lithium-ion batteries.
It is now plain to see that electric vehicles will come to occupy the majority share of new car sales in just a few decades time. Electric vehicle sales in the first quarter of 2021 rose by 140% compared to the same period in 2020. By 2030, this number is expected to be 15-25 times higher yet. Meanwhile, renewable energy has become the default option for new generating capacity in Europe.
The dynamics in play impact all corners of industry and society in an uncountable number of ways, but what is constant is widespread and tremendous demand for lithium-ion batteries.
Ten years ago, there was little conversation at all of Europe engaging in the enterprise of establishing its own battery industry to support this new industrial revolution. Today, that domestic battery industry is taking root – valued in excess of €250 billion by 2025 and a regular talking point of European politicians and automotive leaders alike.
Already today, it's almost inconceivable to imagine that at one time Europe never considered moving in the direction it's now taking, such is how quickly the battery industry has emerged into the fabric of new European industry.
Establishing a new, sustainable battery industry for Europe from a blank slate, as is Northvolt's mission, was always going to be a monumental task. But the progress to date speaks volumes for the momentum for systemic change exhibited by industry amidst the climate crisis.
In every way, the energy transition represents an industrial revolution.
Manufacturing a revolution
To date, Northvolt has raised over $6 billion to advance its mission. While the financing will ensure development of Northvolt Ett gigafactory, it will also further battery R&D, company scale-up and expansion in the areas of recycling and battery systems.
While Northvolt retains a fast-paced approach to delivering on immediate goals – manifest in the execution of pilot and most recently mass-volume manufacturing capacity at Northvolt Ett – longer term targets are set for 2030.
Establish 150 GWh annual cell production capacity
Secure a minimum of 50% recycled material in all new cell production
Reach a cell production carbon footprint of 10kg CO2e per kWh
Altogether, the targets capture the spirit of Northvolt: rapid advancement of European battery manufacturing capacity, with sustainability as the default approach embedded into the roadmap from the outset.
As the target of 150 GWh annual cell production capacity by 2030 will be secured through three gigafactories already under development today, and considering the tremendous pace of battery-dependent markets, setting a new, higher ambition on this front is a possibility.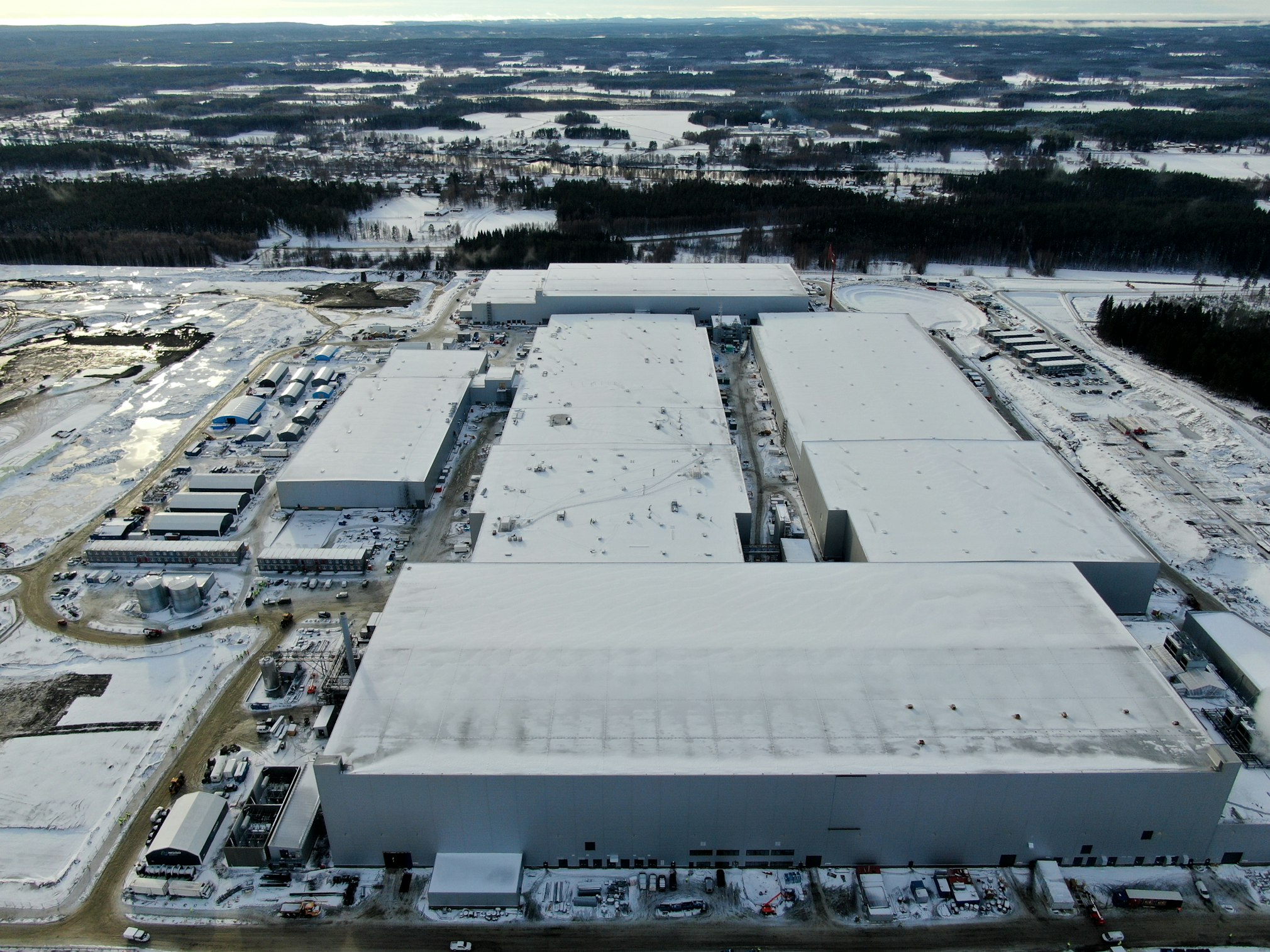 The first gigafactory, Northvolt Ett, is powered with 100% clean energy and assembled its first cells as part of the commissioning of production lines in late December 2021. Presently, Northvolt Ett is composed of one upstream cathode production block and two downstream cell manufacturing blocks. Covering 500,000 sqm, this setup provides 16 GWh of annual cell production capacity.
With this initial production capacity, Northvolt will bring new prismatic cell products to commercial maturity. The NMC chemistry cells represent the outcome of development programs completed at Northvolt Labs, which continues to serve as the company's cell industrialization facility whilst a new R&D campus evolves around it.
Northvolt Ett will produce cells with the lowest carbon footprint in the world.
Into 2022, construction works are underway for developing Northvolt Ett to its full capacity of 60 GWh. The expansion entails the build of a second upstream cathode block – 150% the size of the first – and three additional downstream cell manufacturing blocks. Ultimately covering some 1.5 million square meters of subarctic land in northern Sweden, Northvolt Ett will produce cells with the lowest carbon footprint in the world.
With Northvolt having amassed an order book valued over $50 billion, much of Northvolt Ett production capacity is sold out. Cells produced at Northvolt Ett will supply several of Europe's leading automotive customers and industrial actors, including Volkswagen, BMW, Scania, Volvo Cars and Polestar, as well as Northvolt Systems in Poland.
A second gigafactory is being developed through the Northvolt–Volvo Cars joint venture, announced in June 2021. To be established in Gothenburg, Sweden, the 50 GWh gigafactory is set enter construction in 2023, for large scale production commencing in 2026. Cell output of the gigafactory is committed to Volvo Cars and Polestar, for whom Northvolt is the exclusive battery cell production partner in Europe.
Most recently, Northvolt Drei was announced in March – a cell manufacturing gigafactory to be established in Heide, northern Germany, with annual capacity of 60 GWh and the ambition to produce cells with the lowest carbon footprint in continental Europe when it comes online in late 2025.
Northvolt Drei, like the Northvolt–Volvo Cars gigafactory, will not feature cathode production. To supply cathode to these plants, Northvolt Fem is being established in Borlänge, Sweden. Enabling 100 GWh of annual cathode production powered by 100% clean energy, the plant is Northvolt's first brownfield project and will involve retrofitting of the historic Kvarnsveden paper mill and surrounding infrastructure.
The combined manufacturing capacity outlined above is by no means insignificant – if nothing else it's sufficient to produce batteries for some 2.5 million electric vehicles. It's also Europe's first homegrown lithium-ion battery footprint, of sufficient scale to represent a sizeable contribution to the rapidly expanding global pipeline of battery manufacturing capacity.
But beneath the surface is where the real value of this capacity is. It is not in how many batteries we produce, but in how we produce them. There is a right way and a wrong way to produce batteries, and the approach dominating the industry today is not how we want to see the global industry scale.
What we intend to demonstrate with the Northvolt blueprint is that battery manufacturing can be circular and sustainable. It's this which has driven our selection of gigafactory locations based in large part around access to clean energy. It's this which is motivating many more initiatives within the company to find innovative ways to reduce our environmental footprint and consumption of resources. And it's success in this endeavour by which Northvolt seeks to leave its greatest mark on the European industrial landscape.
Continue with part 2, presenting Northvolt R&D, next-generation technology, electric aviation and battery systems.