Closing the loop on batteries
18 May, 2022
Scaling battery recycling in parallel to a ramp-up in battery manufacturing capacity is at the core of our plans to embed sustainability into the emerging European battery industry. The ambition is not without challenges, but we have every motivation for success – battery recycling provides a path to fundamentally changing the nature of the battery industry.
For all the good which the energy transition will bring, it is not without consequences. Crucially, it implies a shift from dependence on fossil-fuels to dependence on metals – ones which today are mined from the Earth in increasing volumes. At face value this circumstance is unsettling, and certainly not ideal from a sustainability perspective.
Fortunately, while resources are finite, as elements the metals used in batteries are inherently recyclable. Provided that we recover them in the right way, they stand as perfectly suitable materials for use in the production of new batteries.
From a chemical perspective, recycled metals are functionally identical to metals sourced through mining. It is for this reason that we can orient the battery industry towards becoming a circular one: an industry which recovers its products back from the market for recycling and circulates materials back into production flows.
Sourcing raw materials for battery production through recycling represents a profound opportunity. Compared to mining for metals, it's the cheapest option, the more sustainable option, and the most secure option. And while recycling makes sense today, the industrial logic will only become increasingly significant as global battery production intensifies and we move forward to a society ever more dependent on metals.
Here is how and why we are closing the loop on batteries with Revolt – Northvolt's in-house program for battery recycling.
A sustainable battery industry begins and ends with sustainable battery recycling.
The urgency of recycling
Today's evolving industrial landscape is characterized by its being shaped by environmental circumstances we face.
Alongside adoption of renewable energy to power industrial activities, a key dimension to the transformation is the need for responsibility towards products we place on the market. Collectively, we must move beyond a 'produce and forget' mentality.
For batteries, this means providing a sustainable solution for handling increasing volumes of batteries being retired from the market, or reaching so-called end-of-life.
At the same time, the global expansion of lithium-ion battery manufacturing brings with it the major challenge of meeting increasing demand for metals in a sustainable way.
We need only look at the numbers to see why these two dynamics call for recycling. The global demand for batteries is expected to increase 14-fold by 2030 (World Economic Forum). In Europe, some 965 GWh of annual battery production capacity is expected online by 2030, accounting for 28% of 2030's announced global capacity of around 3,500 GWh and increasing 20-fold from 2020 (McKinsey).
The boom in batteries is largely a consequence of the adoption of electric vehicles – European battery EV sales more than doubled in 2020 to close to 750,000 and pushed beyond one million through 2021 for a market share of 10.3% (Schmidt Automotive).
Once extracted from the Earth, metals should remain in a closed loop of product-manufacturing flows.
The roll-out of EVs means that by 2030 the volume of battery packs reaching end-of-life in Europe is expected to reach 250,000 tons per year. But by 2030, Western Europe alone is expected to reach a battery EV market share of 60%, or 8.4 million vehicles.
Less often highlighted, there is another source of materials requiring recycling. Battery production scrap is rising exponentially with the build-out of the battery industry. Production scrap in this sense refers to electrode trimmings, byproducts from cathode active material production, battery cells which do not pass final quality controls and so forth. All of this too can, and should, be recycled.
It is easy to see that a tremendous volume of battery materials will require recycling. Ignoring the great material value of metals held in these materials would be a mistake, but worse yet, failing to recycle them would undercut the environmentally-oriented intentions of the shift to electric vehicles.
Altogether, we face a future in which there is tremendous need for battery recycling. It is already today, however, that we must begin establishing the necessary recycling infrastructure.
Recycling the Northvolt way
Recognizing that recycling would be fundamental to a sustainable battery industry, in December 2019 we launched Revolt – an in-house program for recycling. The principal objective was to develop a recycling process that could scale cost-effectively to efficiently recover battery-grade metals. An additional requirement was that the process should not introduce significant environmental costs, for instance in emissions or chemical waste.
A pilot recycling plant was brought online at Northvolt Labs through 2020 and it was here where a battery recycling process based around hydrometallurgy was developed and refined.
A mix of process engineers, mechanical engineers and chemists working in collaboration.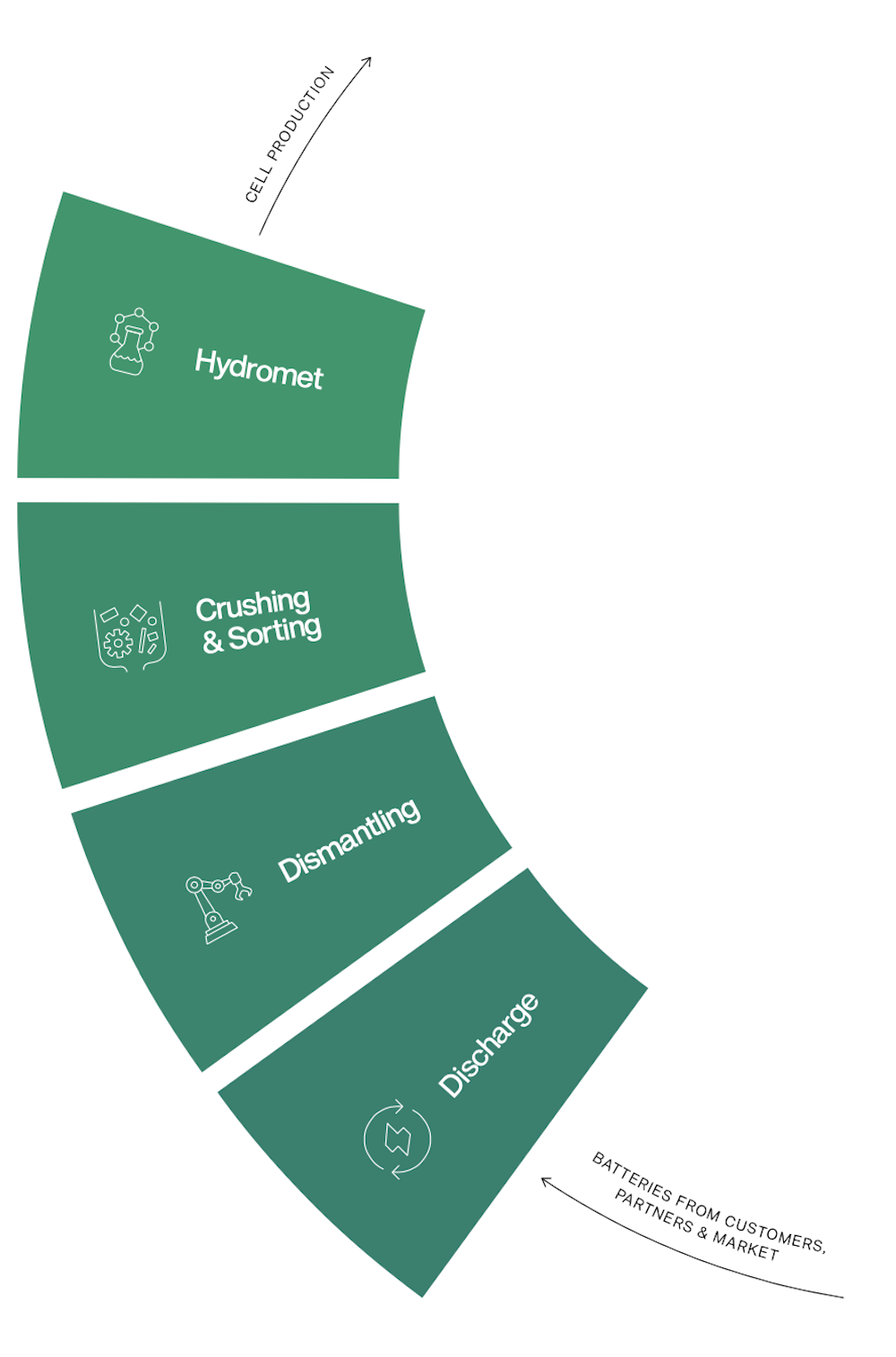 Recycling in-house brings advantages. In addition to being able to leverage industrial engineering expertise from across the company to develop the process, Revolt engineers and chemists worked in collaboration with our cathode material development and production teams. After all, it is to the cathode production which Revolt would ultimately deliver recycled materials in the form of nickel, manganese, cobalt and lithium.
The initiative enabled us to ensure that the metals we recover are a valid substitute for the freshly mined metals we otherwise use to produce cathode.
The key factor is purity – recycled materials must be as pure or purer than battery-grade raw materials they are replacing. And we have proved just this. Demonstrating the legitimacy of recycling as a source for battery metals, in November 2021 we produced our first cathode material from 100% recycled nickel, manganese and cobalt at Northvolt Labs.
Electrochemical testing of battery cells produced with this cathode confirmed performance was equivalent to cells produced with freshly mined metals. We are not the first to have done this – academic papers have been published on the same topic, reporting even how cell performance may be superior in cells produced with recycled materials compared to ones featuring fresh materials.
A new supply of battery-grade metals, preferable in every way to freshly mined materials.
A sustainable feed of raw materials
The benefits of battery recycling run deep, solving the practical problem of handling end-of-life batteries and production scrap, whilst also contributing to security of supply of raw materials for the battery industry. But at its heart, battery recycling is matter of environmental sustainability.
Recycling provides a new supply of battery-grade metals which is preferable in every way to freshly mined materials. We see this plainly when we focus on cathode – a material which makes up around 30-40% of a battery cell featuring nickel, manganese, cobalt and lithium. Compared to using fresh metals, producing cathode with 100% recycled metals has the potential to reduce its carbon footprint by almost 80%. Looked at another way, for every ton of recycled NMC materials we use in cathode production, we avoid approximately 3,800 kg of CO2.
These savings play a key role in our roadmap to reach a carbon footprint of 10kg CO2e/kWh of cells produced by 2030, and stem from avoidance of the high carbon footprint of mining and refining metals. By volume, spent batteries and production scrap hold much higher concentrations of metals compared to ores which we would mine. And extracting those metals through hydromet is simpler and cleaner. To obtain one ton of battery-grade lithium, for instance, we would need to mine and process 750 tons of brine, 250 tons of ore, or recycle just 55 tons of spent batteries.
The hydromet process does rely on chemicals, but relative to consumption of chemicals and water by mining and refining, these footprints are favorably small. What's more, the recycling setup is easily controlled to ensure that byproducts are responsibly handled. Similarly, the initial mechanical stages of recycling, involving crushing and shredding of batteries, require relatively low amounts of energy.
With global battery production already today operating at high volumes, it will be some time before a significant share of its metal needs can be supplied through recycling. But as we begin to incorporate more recycled materials into production, we can begin to reduce our dependence on mining finite resources. Aside from the environmental benefits, this improves security of supply of metals and provides an important buffer against price volatility of markets.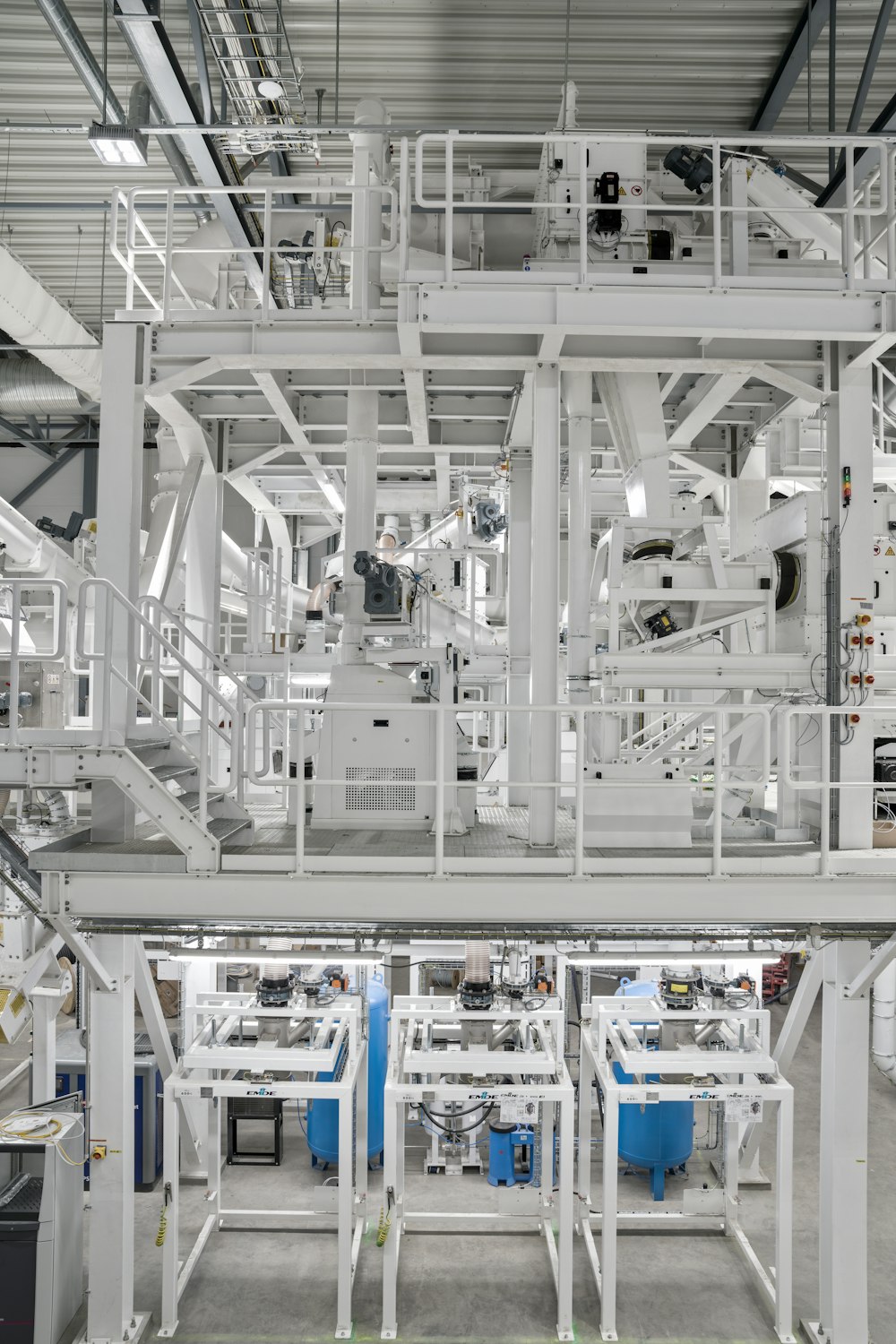 Industrializing battery recycling
Our target is to source 50% of metals for battery cell production from recycling by 2030. At that time, we intend to have at least 150 GWh of battery cell production capacity online. It's an ambitious goal, and to succeed we're going to need to recycle a lot of batteries. Accordingly, we are establising industrial-scale recycling capacities in parallel to our ramp-up of battery manufacturing capacity.
The first step was Hydrovolt – a Northvolt–Hydro joint venture operating what is currently Europe's largest battery recycling plant in the country that needs it soonest: electric vehicle frontrunner Norway.
Entering commercial operations in May 2022, the Hydrovolt plant can handle 12,000 tons of battery packs per year – sufficient to recycle Norway's entire annual volume of end-of-life batteries, equivalent to around 25,000 EVs.
We are also constructing Revolt Ett recycling plant alongside Northvolt Ett gigafactory. Fully built, Revolt Ett will recycle some 125,000 tons of battery materials per year, including production scrap from its neighboring facility. By far the largest recycling plant of its type in the world, recovering lithium, nickel, manganese, and cobalt Revolt Ett will provide Northvolt Ett with 50% of its raw materials for cathode production.
Recycling is not a silver-bullet to bringing sustainability to the battery industry. But it is a vital piece of the puzzle – one that will contribute significantly to reducing the environmental costs of battery production and, ultimately, the electric vehicle revolution at large. What's more, in battery recycling we find the opportunity to demonstrate how and why circularity must become a core characteristic of all manufacturing industries.