Cell to cell: creating a circular European battery industry
1 July, 2020
As a bright new chapter for electric vehicles opens up, now is the time for the industrialization of battery recycling. Hydro Volt and Northvolt's pilot recycling plant is the first volley in European industry seizing the massive opportunity of battery recycling.
The electric vehicle revolution has begun. On turn of the decade we've seen initial tremors of what's to become a seismic shift in the vehicle industry – with manufacturers adopting battery electric as the default technology for the future. The benefits couldn't be greater for the environment, but in order to ensure true success for the revolution, establishing effective battery recycling technologies is an absolute prerequisite.
Sustainable battery production is a key foundation to Northvolt's blueprint. But this goal cannot simply be met by harnessing a clean power base – it requires more. A deliberate, responsible, cradle-to-cradle approach is necessary. And this requires battery recycling.
Recycling is beneficial in its own rights from an environmental perspective, but it directly benefits production too, because it means that raw material requirements for new cells can be replaced with recovered material.
In short, three ingredients are required in order to sustainably handle the huge volumes of batteries which can be expected on European markets in coming years: (1) effective recycling technologies; (2) a distributed ecosystem of recycling capacities; (3) supportive European policy.
Up to 90% of a battery can be effectively recycled, and up to 95% of valuable metals of nickel, manganese and cobalt recovered for reuse. But to secure this, multiple effective recycling technologies are required: first for handling batteries, then dismantling, and then subsequent recovery of various materials, including isolated metals and electrolyte.
These recycling capacities will have to be geographically distributed to account for collection of batteries from varied sources, and composed of multiple stakeholders and circular economies handling various materials which can be recovered from batteries.
Careful planning is required in establishing this recycling footprint, since there is opportunity for not only harnessing synergies with existing recycling players, but also optimizing the flow of materials in order to keep its environmental footprint to a minimum.
Finally, fresh European policy is needed to facilitate battery recycling. This is a new area of business for the region, which has traditionally shipped batteries as waste outside its borders for recycling. Amongst several necessities, in order to recycle batteries here in Europe what's needed is for end-of-life batteries and the materials recovered from them to be transported with relative ease.
There is every reason for public bodies to push for such policy – setting aside the benefits for the environment, the industry associated with recycling would be worth a tremendous amount in terms of financial return and new job creation.
It will take some time for this complete ecosystem to be established. Fortunately, Europe does not need everything at once. Instead, it needs a coordinated roll out of recycling in markets where it makes sense. To begin, Northvolt is turning to Norway.
A first foothold in Norway
Norway's electric vehicle market is arguably the most advanced in the world. It's been fostered through sustainably minded citizens embracing EVs, and supported by state commitment to enable adoption of sustainable transport solutions.
As a result, Norway has seen EVs occupy upwards of 50% of new passenger vehicles sales in recent years, peaking at over 75% in March 2020. That this shift began some years ago and the country remains years ahead of others in terms of EV adoption, means that Norway will be the first country to experience significant volumes of EV batteries reaching end-of-life. To prepare for this, Northvolt has partnered with Hydro to establish a first-of-its-kind battery recycling facility. The recycling plant will be established as a green field development, under a joint venture named Hydro Volt, and come online in 2021 in Fredrikstad, outside of Oslo. Hydro Volt will secure end-of-life EV batteries featuring NMC, NCA and LCO chemistries via Batteriretur , a well-established Norwegian recycling company.
The principle intent for the plant will be for initial collection and handling of batteries followed by processing of batteries up to the point of recovering aluminum, copper, steel, plastics, electronics and electrolyte. Once these materials are set aside for processing by third-parties, or in the case of aluminum, by Hydro, the remaining material is a fine, black powder. This compound material, referred to as black mass, contains metals nickel, manganese, cobalt, graphite and lithium and requires special treatment which will be undertaken by Northvolt in Sweden. Initial black mass volumes will be directed to Northvolt's pilot recycling plant at Northvolt Labs in Västerås.

Norway has seen EVs occupy upwards of 50% of new passenger vehicles sales in recent years
At commissioning, the Hydro Volt plant will have initial capacity to process more than 8,000 tonnes of batteries per year – roughly the equivalent of 23,000 moderately sized EV batteries.
In a second phase, expansion of the Hydro Volt facility could see capacities ramp up in line with increases in availability of end-of-life batteries. In time, it's expected that a significant share of the Scandinavian EV fleet end-of-life batteries could be processed by the facility.
Hydro – a like-minded partner
Aside from its strategic location in relation to EV volumes, Hydro makes for an excellent partner to accelerate Northvolt's vision for recycling. A fully integrated aluminum company based in Norway, Hydro holds world-leading experience in recycling of aluminum – a key material in batteries. Additionally relevant to Hydro Volt operations, the company has ties to key Norwegian electric vehicle actors, including Batteriretur, and other recyclers which will purchase materials recovered through the recycling process. Setting these characteristics aside, what's attractive to Northvolt is Hydro's commitment to sustainability.
Like Northvolt, Hydro is seeking expansion of operations where they can be powered with clean, zero-emission power. Today, the company operates over 20 hydropower facilities throughout Norway, providing around 10 TWh of clean energy annually for its aluminium production. It's also committed to innovating its production processes to reduce energy consumption.
Altogether, the partnership illustrates the synergies which become apparent in the industrial landscape that emerges with new energy. On account of their unlocking prosperous circular economies, these should be actively pursued and embedded into the fabric of new industry.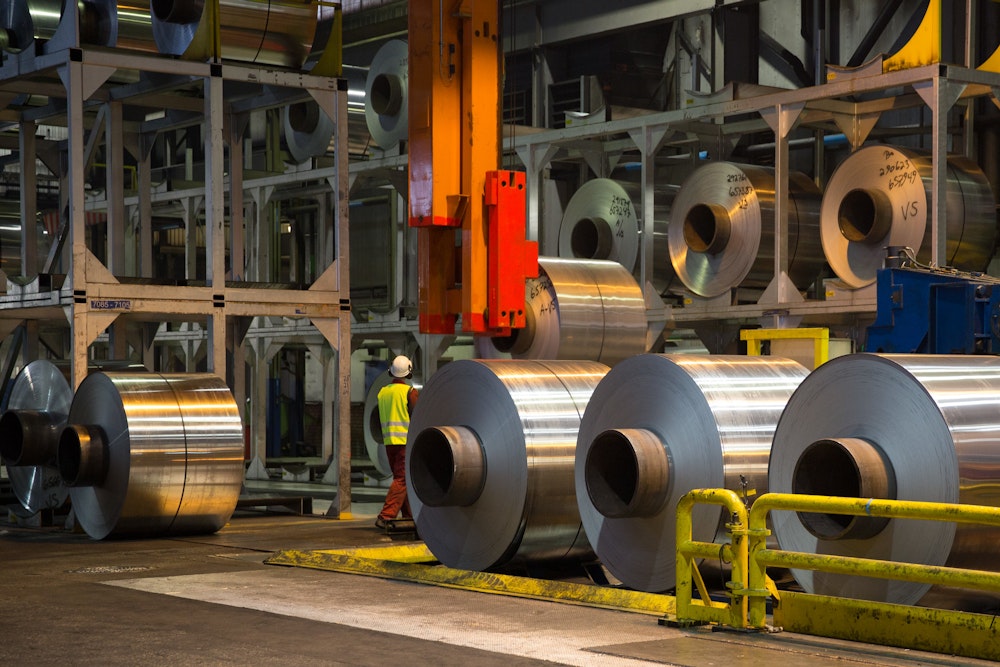 The larger picture
Northvolt is aiming for 50% recycled material in new cells by 2030. While Hydro Volt is key to securing this vision for sustainable batteries, it won't function in isolation and the broader context of its operations is worth outlining.
The Hydro-Northvolt joint venture arrived within six months of the formal announcement of Northvolt's recycling program , Revolt, in December 2019.
In reality much has been going on behind the scenes. Far from an afterthought, Northvolt's development of critical hydromet recycling technology began in the company's first year in September 2017. That work has led to design of a pilot scale recycling plant currently being established at Northvolt Labs, in Västerås, Sweden.
Set for commissioning later this year, the pilot plant will demonstrate Northvolt's complete recycling process, and enable its refinement ahead of a full-scale recycling plant being established at Northvolt Ett gigafactory by end 2022.
Named Revolt Ett, the full-scale recycling plant will have initial capacity to process 8,500 tonnes of black mass per year, roughly equivalent to the material required for 4 GWh of new battery cells.
It is to this plant which Hydro Volt will ultimately ship black mass – a logistical decision that serves to keep CO2 footprint as low as possible by keeping the bulk of mass of EV batteries in Norway, and shipping only the most valuable material to northern Sweden. This makes additional sense given that after processing of black mass, the recovered metals will then be recirculated into manufacturing flows on-site at Northvolt Ett.
Although serving the immediate recycling needs of Norway, the ultimate intention of Hydro Volt in fact runs deeper. By first demonstrating and optimizing the recycling setup at relatively small scale, Northvolt is preparing for deployment over a widely distributed European footprint, aligned with ramp-up in EV adoption.
In short, it means preparing for a sustainable end to a sustainable solution from day one.