Why lithium metal matters
21 March, 2021
Northvolt's acquisition of Silicon Valley-based cell technology start-up Cuberg marks a new chapter for battery technology. Folding one of the most promising technologies from the cutting-edge of cell research & development into the roadmap of a disruptive cell manufacturer with plans for delivering the world's most sustainable battery, the combination is ideal.
The path ahead for Northvolt now envisions the commercialization of a breakthrough lithium metal cell boasting energy density of 1000 Wh/l by 2025, alongside Northvolt's entry into the electric aviation market.
Offering upwards of 70% increase in energy density compared to conventional lithium-ion cells, battery electric aircraft won't be the only vehicles to benefit from this new technology. Over the coming five years, the lithium metal technology will be incorporated into Northvolt's portfolio of cell offerings to automotive customers – enabling electric vehicles with far greater range, improved safety and superior performance than we see today, without coming at the expense of cell lifespan or stability.
In short, the adoption of lithium metal and its forthcoming commercialization by way of Northvolt facilities means that by mid-decade, Northvolt will be making good on its vision to enable the future of energy by land, by sea and by air.
Demonstrated lithium metal technology
Integrated into a cell featuring a nickel manganese cobalt cathode, Cuberg technology's performance has been demonstrated through independent verification conducted by the U.S. Department of Energy in 2020. Blending an exceptional combination of specific energy, specific power, and cycle life, the 5 Ah pouch cells were documented to exhibit 369 Wh/kg specific energy, 2000 W/kg specific power output and 370 cycles at C/2 cycle life.
These independent test results provide a high level of confidence in the technology, validating the results that Cuberg's customers have observed, and as demonstrated in internal tests.
Still, the work is far from over. What remains to be done is in many ways the most difficult part of the innovation process – to take the technology into larger format cells with increased capacity to meet the range of applications Northvolt intends to serve, and scale production on Northvolt manufacturing lines.
The Cuberg team, which will remain in California, will work in close collaboration with the Northvolt cell design team, based at Northvolt Labs in Västerås, Sweden, to tackle the challenge of cell industrialization.
Cuberg will continue to build on its core competency of battery innovation, launching Northvolt's Advanced Technology Center to continue pushing the cutting edge of battery cell development. Facilitating the endeavor, Northvolt will be investing in the expansion of Cuberg facilities, to enhance testing and manufacturing capacities in its new North America base of operations.
Cell architecture
The new cell works in a comparable manner to a conventional lithium-ion cell, but with two significant changes in its build. Where today's lithium-ion cell features a graphite anode that stores lithium ions during a state of charge and releases them during discharge to provide power, Cuberg's lithium metal cell instead features an anode of pure lithium metal.
In the lithium-ion cell, energy density is capped by the number of lithium ions that can be stored within layers of the graphite-based anode. In contrast, a lithium metal cell can store many more ions in its anode, and therefore upwards of ten times the amount of energy. As for the cathode, Northvolt expects to leverage its state-of-the-art nickel manganese cobalt cathode within the lithium metal cell.
What is particularly noteworthy with Cuberg's cell technology is less its use of lithium metal, but rather how it enables its use. Lithium metal, after all, has been known by battery researchers for decades as an ideal anodal material owing to its material properties, notably its extraordinary capacity for storing energy, its conductivity and lightness. The problem, however, has always been in its implementation in a viable cell.
Partly because of its high energy density, lithium metal is highly reactive – too much so to be used in combination with traditional liquid electrolytes and cell architectures. It is in part for this reason that many groups are exploring solid electrolytes, since these would be less reactive with the lithium metal.
Cuberg elected to not pursue a solid electrolyte, and the team's core innovation rests with its formulation of a novel, non-flammable liquid electrolyte, which effectively stabilizes the lithium metal whilst performing the typical function of an electrolyte – serving as a medium for charged ions to flow. The electrolyte brings the added benefit of a heightened level of safety to the cell which adds to the technology's suitability for commercial applications.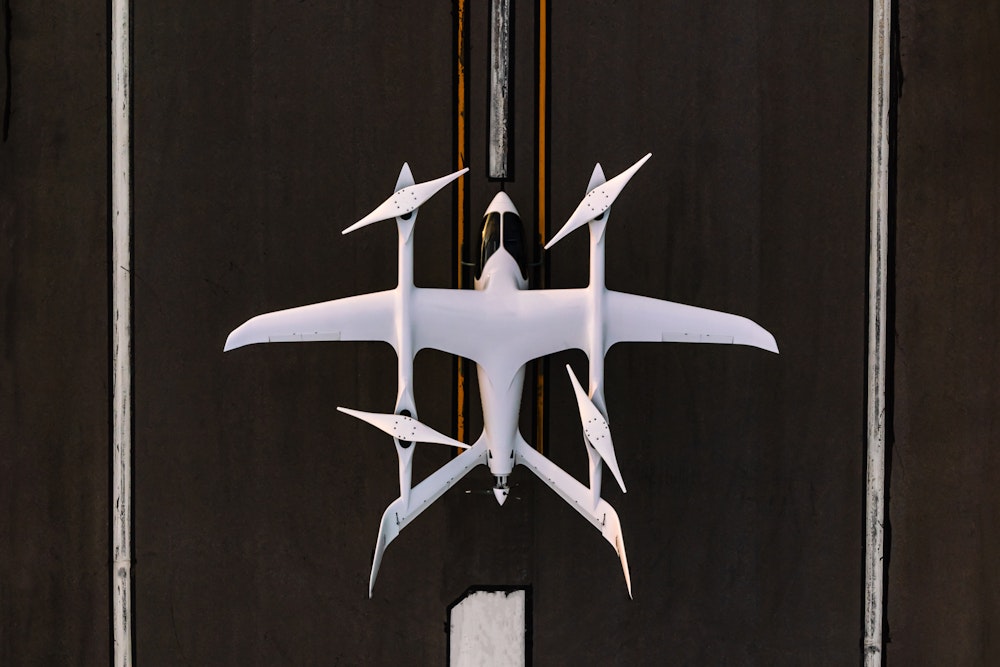 Liquid advantages
The development of a liquid electrolyte which can be paired with a lithium metal anode is hugely significant, because it means a shorter, less costly, more streamlined path to placing cells on the market. This is in large part because Northvolt can produce the lithium metal cells using conventional lithium-ion manufacturing processes and machines, including those at existing facilities of Northvolt Labs and Northvolt Ett.
Lithium metal technology provides the key to unlock a new market for Northvolt: aviation. Cuberg has focused much of its development objectives to date around serving the electric aviation market's needs for high energy density cell technology, and has already attracted customers in this segment, including Boeing, BETA Technologies, Ampaire, and VoltAero along the way.
Electric aircrafts, however, will not be the only application to take advantage of the new cell technology. Within the coming years, Northvolt will incorporate lithium metal technology into a high-performance cell for premium automotive applications which share requirements of fast charging, robust safety, and high energy density.
Adoption of lithium metal cell technology does not mean setting aside all other technologies. Northvolt will continue to advance its NMC cathode – an activity being undertaken by the Cathode Material Lab at Northvolt Labs – as well as innovate lithium-ion anode technology based around graphite- and silicon-based anode materials, which will hold a valuable position within the Northvolt cell product portfolio for the foreseeable future.
Equally, in broadening its competencies and experiences in developing technologies beyond conventional lithium-ion, Northvolt is positioning itself for embracing additional novel cell architectures in the future.