Meet Jessica Dahlkvist, Mechanical & Thermal Design Team Leader
10 May, 2019
Meet Jessica Dahlkvist. Mechanical design engineer of Sweden's KTH Royal Institute of Technology, industrial design enthusiast and mechanical and thermal design team leader at Northvolt.
While much of Northvolt's work over the last two years has involved planning, there is one team which has embraced a more accelerated timeline. Without compromising on diligence or details, Northvolt Battery Systems has been engaged in the design and delivery of some of the company's earliest material outcomes.
Jessica has been involved since the very earliest days of Northvolt in charting this course. As Mechanical & Thermal Design Team Leader at Northvolt Battery Systems, Jessica leads a team of nineteen engineers and has been a key driving force behind the company's delivery of pioneering battery solutions for Swedish mining giant, Epiroc .
"At Northvolt we want to enable the future of energy. One aspect to that is how we want to supply batteries for a cleaner, electrified future. At Battery Systems we're responsible for implementing Northvolt batteries into customer solutions."
Based in Stockholm, Jessica's team engages in complete project development for everything from modules to packs, and different types of stationary energy storage racks . "That means working from design to prototype, through iterations and validations and then on to commercial products."
Necessarily, Jessica's own work involves balancing technical work, reviewing designs, and supporting her team in their taskings. "Ultimately, I assure that all designs are made according to Northvolt's functions, standards and style. It's critical if we're to scale successfully in the volumes we plan to, that designs, drawings and renderings are flawless, such that anyone can take them and immediately understand them." "We're building a portfolio of products that's absolutely necessary to secure a cleaner future and it's been a journey to see that become a reality. It's the dream of every engineer, right?"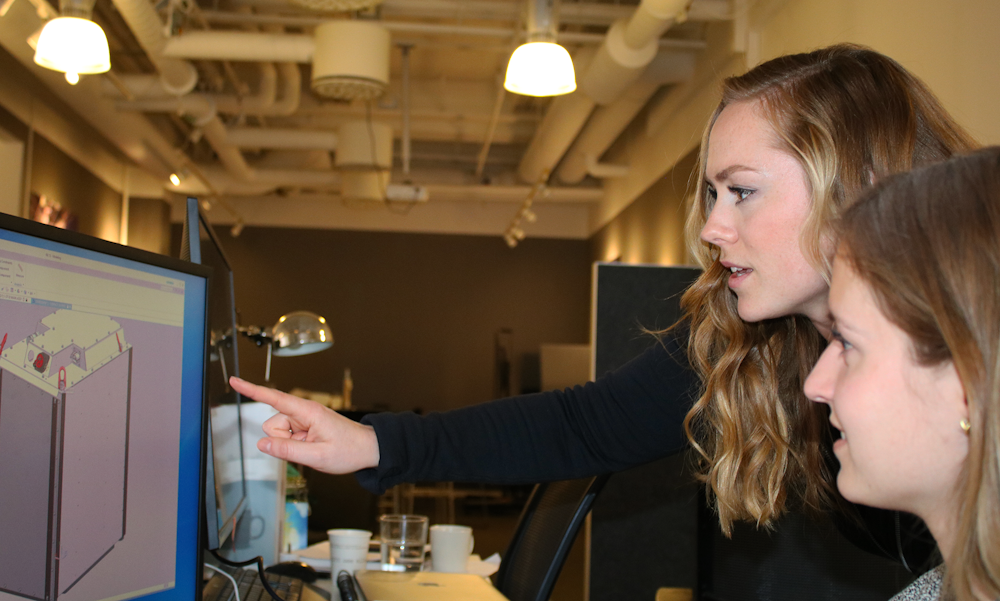 From fighter aircraft to batteries
Jessica joined Northvolt in 2017 after having worked as a Mechanical Design Engineer at Saab Defense and Security for four years.
"Summer 2016 I read Ashley Vance's book on Elon Musk. I think it inspired me, as it did many people here at Northvolt. That upcoming fall I learnt about plans for a Swedish gigafactory and was hooked."
Arriving into a situation at Northvolt quite removed from what we see today, Jessica recalls:
"We were few, maybe just five people at what we back then called Module & Pack (today Battery Systems). To be honest, I thought it would be more structured. I suppose having come from Saab to a start-up I should have expected that…it was night and day. The Epiroc project came in very early, so that was the first project we began to grapple with."
"I'd be lying if I said we didn't experience our share of struggles. I mean, being a young company, with huge ambitions, building a team, meanwhile trying to develop a world-class concept for an entirely new kind of product not on the market yet… I think it's easy to see why that's not so simple."
The work was varied, but with a fine education behind her and the skills and perspective that Northvolt requires, Jessica was well-matched to the environment.
A graduate of Sweden's KTH Royal Institute of Technology with a Masters of Engineering in Industrial and Product Design, Jessica described having enjoyed her studies: "It was an interesting period learning about all sorts; design sketches, product development with customers, CAD tools, project planning, renderings. Also fundamentals such as mechanics, structural & thermal analysis and material science."
"It was all ideal training for what I'm doing at Northvolt. You learn how to approach a problem, how to recognize the fundamentals of problems and work from there. It's great to feel that you're applying what you learnt in school to real-world problems."
Being a young company, with huge ambitions, trying to develop a world-class concept for an entirely new kind of product… I think it's easy to see why that's not so simple.
After graduating, Jessica joined Saab as a mechanical design engineer.
"I was working on radar systems for Saab's Gripen aircraft. As a mechanical engineer I was involved in system housing, mounting and interfacing, and cooling."
Aircraft might seem far removed from batteries, but you'd be surprised. "Aerospace and defense are the most extreme industries in terms of high-end engineering in some respects – super strict on standards and testing and so on. So there was a great focus on quality rather than high volumes, and I appreciated the emphasis on developing well set processes and quality gates. That's key to ensuring a consistently high-quality product, that's safe and reliable."
"Having experienced that at Saab and joining Northvolt, a start-up moving very fast, I recognize the value of super high standards in a different light – to take pieces from that approach and apply them here so that we can produce systems of the highest quality and robustness."
For Northvolt, that kind of consistent quality assurance is key, since we're going to be producing at volumes on the order of many millions of cells per year. But Jessica highlights something else: " People tend to forget that when you build a battery system, it's really not just the cells and batteries; what makes it a system is the mechanical and electrical components around it. Systems facilitate the performance of cells – it doesn't matter how great your cells are, if you build a poor system around them, they won't perform."
Jessica also recognizes a significant safety aspect to this, saying: "People rightly perceive that safety is critical with batteries. To maintain a high level of safety you need to assure great control during development and manufacturing. Fulfilling multiple safety layers that are defined alongside customers, with standards and certifications, is absolutely key to our work."
"Maintaining strict and clear engineering and validation processes throughout development takes time, but I believe it leads to a better, safer product."
The road travelled and the journey ahead
Reflecting on the work to date, Jessica says: "We've come a long way since the early days. And we now have some great products out in the field with Epiroc for final testing. The other day we had an ingress protection test (testing water resistance). I was almost emotional watching it! I remember when we were sketching that out, and now we're qualifying it. I think it's quite extraordinary and I'm humble for the fact that we've come so far – I have a great team to thank for that!"
But for Northvolt, the work is only just beginning. As Jessica comments, aside from ongoing work with Epiroc, Northvolt has partnerships with wind energy leader Vestas amongst others; conversations around which she is very much a part of with respect to future projects.
Here, Jessica works with Northvolt Business Development. "They are Northvolt's interface to the world and customers. After their initial contact, and some early discussions, Battery Systems is brought in. Some customers, new to electrification, need our expertise to develop solutions. And we're happy to do so. Happy to work with them in defining the broad requirements of product, before getting to work on design foundations and concepts. It's certainly exciting work, with some customers in industries quite different from Epiroc."
Hinting at the extent of Northvolt's future commercial offerings, Jessica adds: "Another area I'm especially excited for is working on delivery of Northvolt branded products; something more off-the-shelf. That includes stationary applications, perhaps home storage, but also industrial customers and other mobility subsectors. It's a very open field, which is part of the excitement!"
It's here where Jessica believes Northvolt has an opportunity to develop its own design language that communicates what its products represent.
"Design language is a combination of features and physical attributes that is specific to a brand. Something like functional aesthetics. Simple but effective features that come to be known by users, who then recognize the product as a Northvolt design."
"That Northvolt brand identity will signify quality, intuitiveness, reliability, the ethos of Northvolt and its green mission."
"There's real scope for Northvolt setting the benchmark, or industry standard in this area. It's the perfect time right? Since electrification is literally opening up brand new markets and products. That's what I want to be a part of. I think all of Battery Systems do."
Design and engineering aside, there is another source of motivation for Jessica; something shared by everyone at Northvolt – creating a cleaner, decarbonized future.
Jessica concludes: "I believe it's a necessity, but as an engineer I also see that it's technology that will drive it. At Northvolt, I go to work every day and I genuinely feel a part of that. What motivates me is that I believe that we are working towards the right goal and contributing with our part to mitigate climate change. The energy industry is such a big part of our lives and how we think about it will change drastically in the future. It feels good to know that I can shape this future while working together with extremely talented people!"