Powered by Northvolt: Taking peak shaving to new heights
5 January, 2023
When imagining a construction site, we often picture a noisy and pollution-heavy environment. The emergence of all electric machines, coupled with battery solutions like the Voltpack Mobile System, present a cleaner, greener, and quieter way forward. The future of construction is here.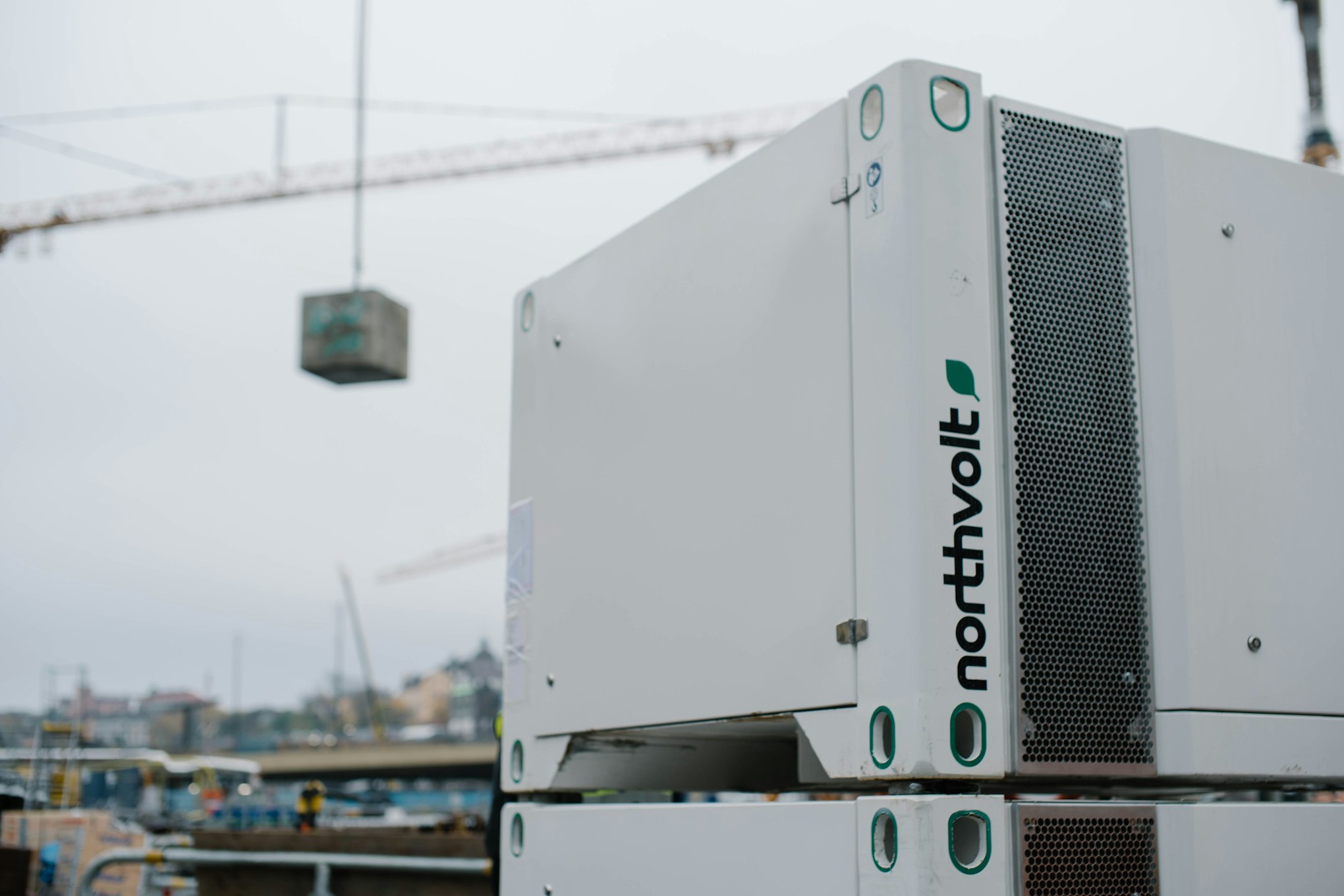 Located in the heart of Stockholm, Slussen is an important transport hub, connecting the Old Town and the borough of Södermalm with the downtown area. A historical site, in need of a facelift, the area has been under construction for several years. Skanska, the construction company in charge of the site, is determined to implement cleaner, greener solutions where possible. Enter the Voltpack Mobile System – a mobile battery solution designed to replace diesel generators.
Voltpack Mobile at Slussen
In a recent deployment, Skanska used the Voltpack Mobile System to power a tower crane in Slussen for seven days.
Under normal conditions, Skanska has enough grid capacity to power the whole crane, but during this week the available capacity was not enough to take the peak power demand. To avoid using a diesel generator, the Voltpack Mobile System provided a simple solution.
At the site, Sara Gorton, Sustainability Manager at Skanska explained:
"Skanska works with sustainability in a range of different ways. Electrification is a vital part of that work, partially in terms of electrifying construction equipment and machinery. To do so, we need to be able to charge and power equipment whether we are in an urban area where we have easy access to electricity and the grid, or out in the forest, where we need to use different forms of mobile battery solutions."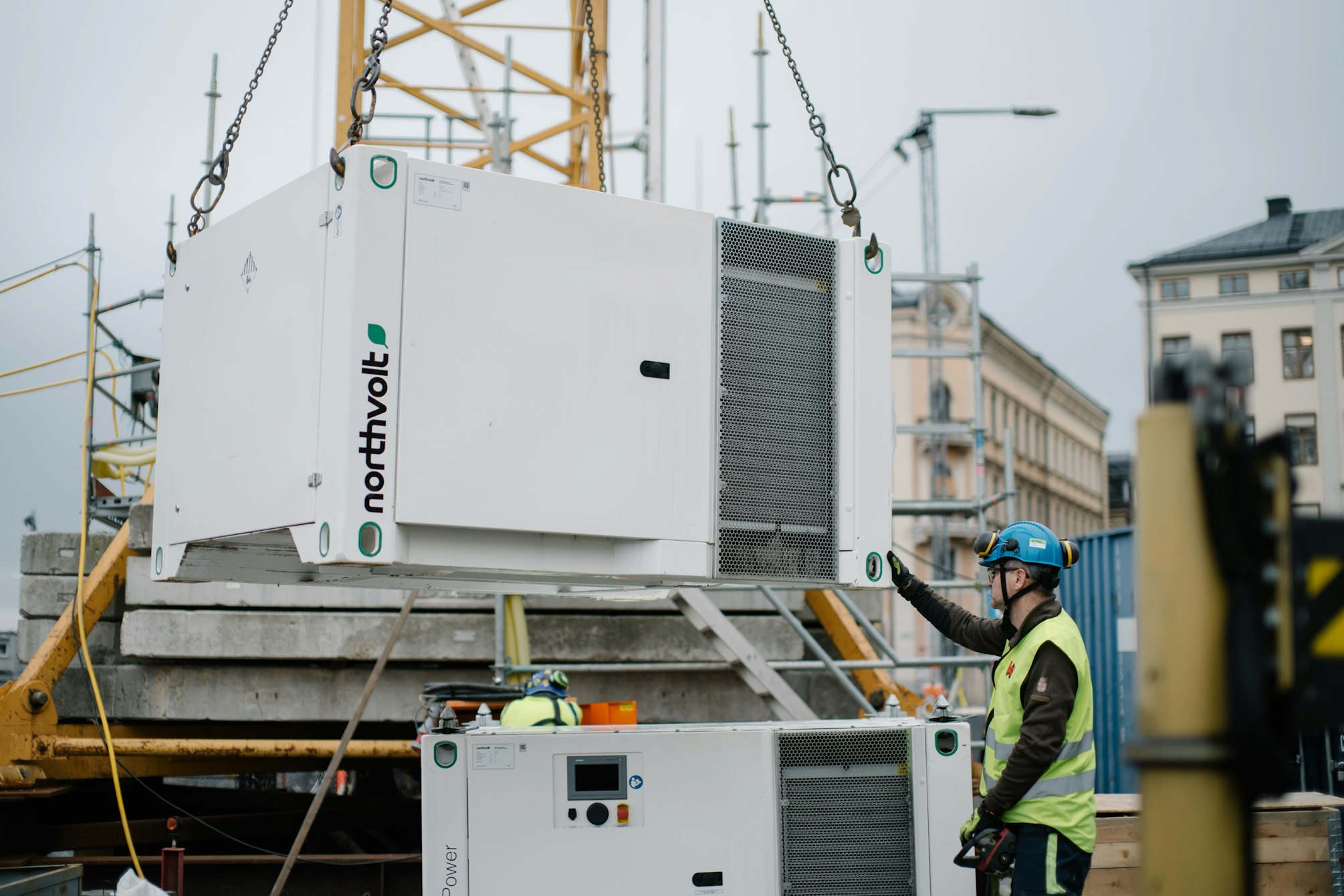 Peak shaving
The high-power requirements of heavy machinery like a tower crane cannot always be met through grid connections. Depending on their location on the construction site, heavy machinery may have limited access to higher amounts of power.
At Slussen, the Voltpack Mobile System ensured grid stability by employing batteries as a buffer, adding extra power to the crane when needed. This helped boost the grid connection when the power demand was higher than the available power from the grid.
By using the VMS in this way (known as peak shaving), a construction site can reduce power consumption quickly and for a short period of time to avoid spikes in consumption, and access additional power than is directly available from the grid. This not only supports more stable grid operations but also allows construction companies to avoid supplemental electricity prices and fees.
Additionally, Voltpack Mobile can act as a temporary power source when construction machinery requires higher power than is directly available from the grid. This allows construction projects to avoid delays while utility providers adjust grid outlets.
Emission-free construction
While waiting for a large enough grid connection, or in the absence of the possibility of getting a good enough grid connection entirely, diesel generators are often used to power heavy machinery like tower cranes.
Typically, these generators are left running, even when peak power is not needed. When operating in idle mode, diesel generators are inefficient and waste significant amounts of fuel. They are noisy, and emission heavy. In contrast, the Voltpack is silent, emission-free, and can be left on stand-by until needed.
Had the tower crane been powered by a diesel generator, the generator would have emitted 1,409 kg of CO2 over a seven-day period. By opting to use the Voltpack Mobile System, Skanska avoided these emissions entirely.
Mobile battery systems have a key role to play in enabling the future of construction. We can expect them to become a far more common sight as construction companies search for alternatives to emission-heavy diesel generators.
Want to reduce your construction site's carbon footprint? Contact us.