Powered by Northvolt: an electric construction site
14 June, 2022
In the race to cut emissions, the electrification of construction is key. At Northvolt Ett gigafactory, we recently demonstrated a combination of zero-emission solutions in action. Here's what happened.
Removing and piling scoops of gravel, the characteristically yellow excavator moved silently. Working in a corner of the expansive construction site – distant and remote from permanent power infrastructure – the only sound was that of gravel crunching under the machine tracks and a quiet hum. Battery-powered, the excavator could operate for much of a full shift uninterrupted. But looking to take a break from work, the operator pulled the machine around to a portable charging point, hopped out of the cab and over to the charger. The machine was plugged in and began to charge.
Construction sans emissions
Electric construction equipment is already a reality. Vastly outnumbered by engine-powered solutions, but high-performance full-electric trucks, lifters, excavators and more, of all sizes, are available.
For these zero-emission electric machines to be a competitive, they must operate to the same standards as traditional combustion engine variants. Machine downtime costs money, and unexpected downtime can have an immediate impact on keeping to schedule. A central challenge here arises with the need for battery charging.
While overnight charging is an option, this alone often isn't sufficient for the more power-hungry machines such as trucks and heavy excavators which can require charging during working hours depending on their activities. To limit lengthy delays to work, fast-charging is key. But enabling fast-charging on construction sites isn't always straightforward. If they are available at all, grid connections might not be able to provide the necessary amount of power.
The solution is to bring the power required where it's needed, when it's needed. It was just this that was recently demonstrated at Northvolt Ett gigafactory – one of Europe's largest construction projects.
"The main challenge with electric construction machinery is the availability of power at the construction site to support charging. A battery provides the solution."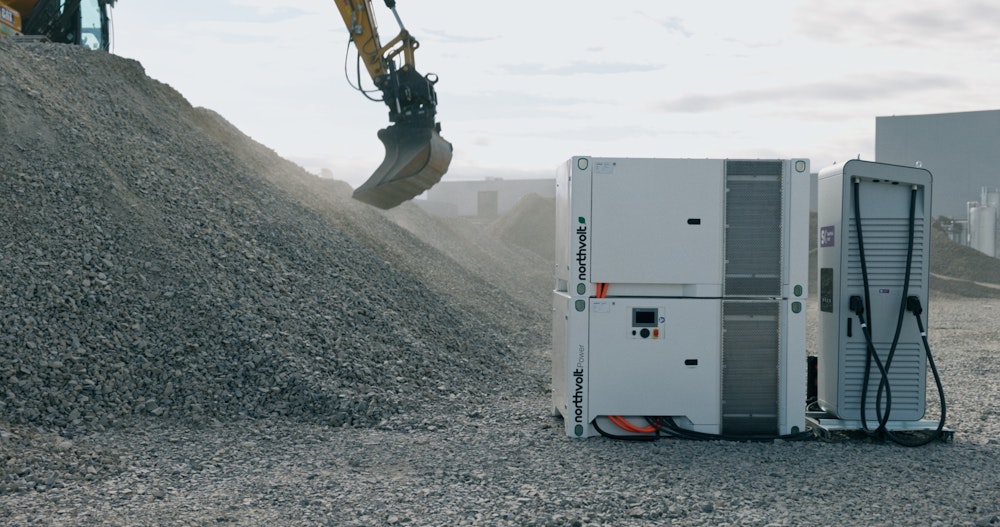 Off-grid charging
Involved in the demonstration of what zero-emission construction looks like were three components: a full-electric, Northvolt battery-powered CAT 320 Z-line excavator from Pon operated by construction company NCC (see footnote), a 150 kW charger from Skellefteå Kraft, and a Northvolt Voltpack Mobile battery system.
Jon Einar Holum, Manager for Engineering at Pon Equipment provides context to activities, saying: "The Northvolt battery powered machines are performing well. Compared to diesel, the drivetrain is more efficient at lower loads, and at high utilization the energy consumption is comparable to diesel."
"The energy density seen in today's battery technology is sufficient to cover the energy needs of a 25-ton excavator running at an average load for a full workday. Of course, more power is required for working with heavier, larger than average loads. To cover energy needs for this size class, a local fast-charger is required to supply as much energy as possible in the shortest amount of time."
To enable fast-charging where works were being undertaken, a 281 kWh Northvolt Voltpack Mobile battery system was deployed. Avoiding the use and pollution of a diesel generator – the traditional go-to solution for temporary power on a construction site – the battery was more than sufficient to support 150 kW fast-charging of the Pon excavator.
While construction sites may be coupled to a local electricity grid, the high-power requirements of fast-charging cannot always be met through these connections.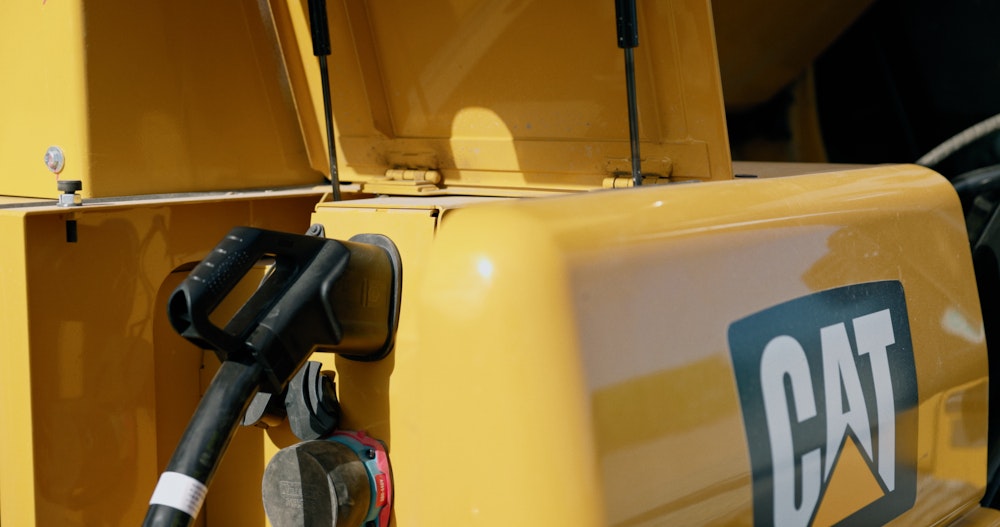 Scalable, quick-to-deploy and designed with robustness in mind for just this kind of an application, Voltpack Mobile is right at home on a construction site and provided the necessary supply of power without noise or pollution.
Behind the deployment was Swedish power company Skellefteå Kraft – a pioneer of charging solutions to enable decarbonization which has been trialing Voltpack Mobile.
Fredrik Jonsson, manager for E-mobility at Skellefteå Kraft, comments: "With the new landscape of electric vehicles, there's a need to deliver new kinds of power infrastructure to enable electrification. We've shown here how fast-charging works even when there is no grid connection, and this is a major piece of the puzzle, especially for construction projects looking to adopt electric machines."
In this demonstration Voltpack Mobile was only used to charge a single excavator, but it's capable of much more – additional applications ranging from rig lighting to cabins or cabled electric equipment could all have been powered by the battery system. Quick to disassemble and relocate, the system can be moved around construction sites to where it's needed with ease.
The system scales from 281 to 1,405 kWh to provide power where it's needed, when it's needed.
Mobile battery systems have a key role to play in enabling the adoption and use of electric machines, and we can expect them to become a far more common sight as they replace the use of diesel generators.
But as Jon Einar Holum of Pon Equipment, highlights, this is part of a larger movement of change in how we plan for the transition to electric construction sites: "As electric construction equipment is more widely adopted, energy will be part of construction site planning and battery-enabled fast-chargers will probably be a big part of the solution."
A note about the excavator: Northvolt is supplying Pon Equipment with Voltpack Core battery systems to be integrated into 12-tonne and 25-tonne variants of the Z-line excavator, featuring 150 and 300 kWh of installed battery systems respectively.
Use Voltpack Mobile to power your electric construction site:
Go to product page